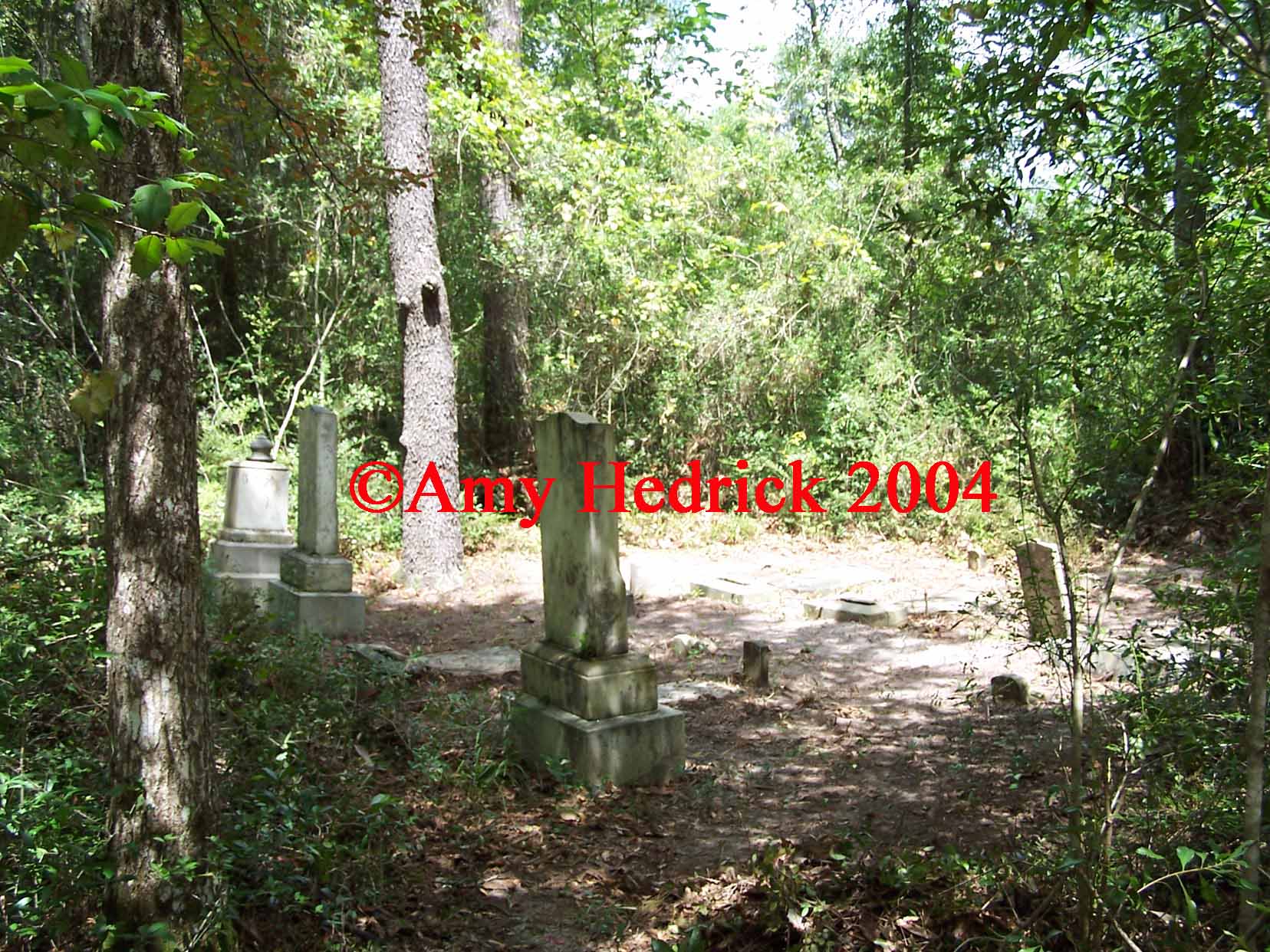 T
his cemetery is located in Waynesville, Brantley County, Georgia on Mumford Road [county road 158]. When traveling west on Hwy. 82, go 1.2 miles past Old Post Road and C.R. 158 will be on your right. About two tenths of a mile on your left is the cemetery directly across from the Mumford House. There are 10 graves marked with stones in this cemetery.
According to the Brantley County, GA website, in describing his venture into the Mumford estate, area writer, Carr McLemore, wrote in the Jesup Press-Sentinel, November 29, 1980, the following: "...farther along, where the vines grow dense, trees grow tall and moss hangs low, one may search for... the stately Mumford house." Upon his discovery of the Hazlehurst Cemetery, just across the road from the Mumford house, he writes "one goes through a veritable jungle in search for an old family cemetery...now for the researcher, the question arises: who really lies here? Oh, the names are there, but who were John M. Hazlehurst, Jane Johnston Hazlehurst, Mary Jane Hazlehurst and Layton (spelled Leighton) Hazlehurst?" This question is deemed one of the Mysteries of Brantley County.
In Georgia's Land of the Golden Isles, Burnette Van Story writes that "In 1843 Mary Jane McNish was married (at John Couper's Cannon's Point Plantation on St. Simons Island) to Leighton Wilson Hazlehurst, the son of Robert and Elizabeth Wilson Hazlehurst whose families were among the earliest settlers of Glynn County". Also that "Ann Johnston McNish spent the war years with Mary Jane (her daughter) and her family at their summer home in Wayne County, where she died in 1869". Ms. Van Story goes on to recount that the Johnstons were related to the Coupers and when Ann and her sister, Elizabeth, were orphaned at an early age they were taken in and raised at the Couper home. John Couper's son, James Hamilton Couper also built a summer home (now called "The Lodge") less than a quarter of a mile from the Hazlehurst Cemetery.
Many years ago, according to St. Mark's Episcopal Church records, there was an Episcopal Church standing here, most likely started by the Hazlehurst family, as they were founders of St. Mark's here in Brunswick. This may explain why the cemetery was started at this location, plus the fact that they may have had a home in the area.