Jacobs Cemetery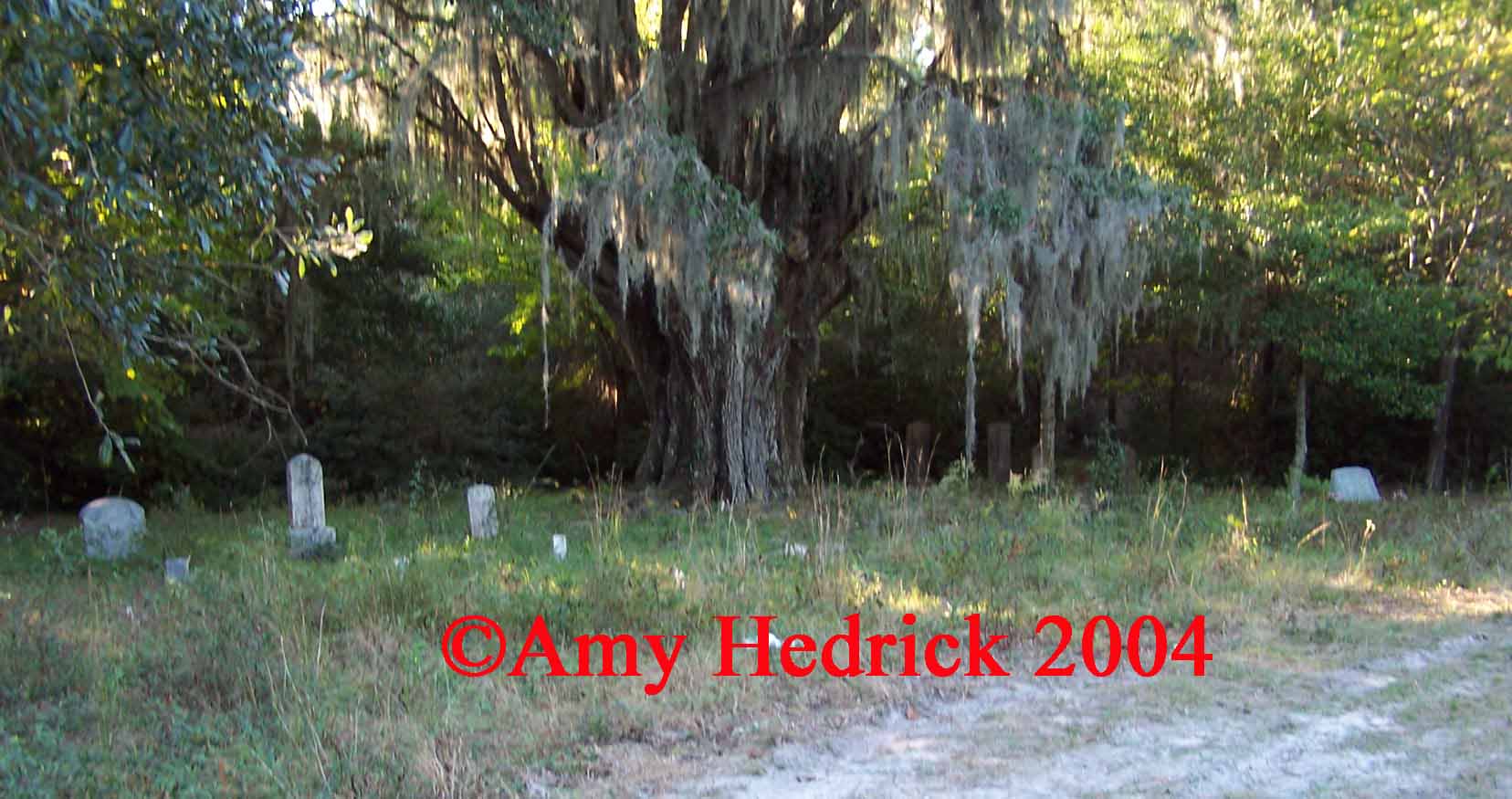 From the Brantley/Glynn County line [Post
Road], travel 1.8 miles west on Hwy. 82. Turn
south on CR 168 and go 1.2 miles then turn left.
This is a hunting club road with a gate that is
usually open. About 0.3 miles down this road
you will run into the cemetery.
| | | | | | | |
| --- | --- | --- | --- | --- | --- | --- |
| NAME | BIRTH | DEATH | FATHER | MOTHER | SPOUSE | PHOTO |
| BROOKER, Walter | no date | no date | BROOKER, | --- | Infant | PHOTO |
| GIBSON, Lewellyn S | 12 Mar. 1895. | 15 Oct. 1918. | GIBSON, Thomas Percival "Percy" | JACOBS, Rachel M | Single | PHOTO |
| GIBSON, Rachel Matilda Jacobs | 24 Mar. 1875. | 28 Apr. 1924. | JACOBS, Berrie Elijah | HARPER, Matilda Ann | GIBSON, Thomas Percival "Percy" | PHOTO |
| GIBSON, Thomas Percival "Percy" | 00 Jun. 1868. | 00 OOO 1924. | GIBSON, John Jr | HARRISON, Jane Elizabeth | JACOBS, Rachel Matilda | PHOTO |
| GIBSON, Thomas Percival Jr | 07 Nov. 1901. | 12 Nov. 1906. | GIBSON, Thomas Percival "Percy" | JACOBS, Rachel Matilda | Child | PHOTO |
| JACOBS, Berry Elijah | 15 Jan. 1852. | 03 Jan. 1914. | JACOBS, Andrew Jackson | HARPER, Mary Salena | HARPER, Matilda Ann | |
| JACOBS, Daniel M | 07 Feb. 1873. | 22 Apr. 1887. | JACOBS, Berry Elijah | HARPER, Matilda Ann | Child | PHOTO |
| JACOBS, Infant | no date | no date | JACOBS, | --- | Infant | PHOTO |
| JACOBS, James Harper | 13 Dec. 1880. | 05 May 1887. | JACOBS, Berry Elijah | HARPER, Matilda Ann | Child | PHOTO |
| JACOBS, Matilda Ann Harper | 07 Mar. 1854. | 04 Mar. 1911. | HARPER, James S Jr | ?? Elizabeth | JACOBS, Berry Elijah | |
| JACOBS, Richard Meader | 26 Feb. 1889. | 17 Dec. 1918. | JACOBS, Berry EliJah | HARPER, Matilda Ann | AMMONS, Martha Augusta "Gussie" | PHOTO |
Back to Brantley County Cemetery Page