McCool Cemetery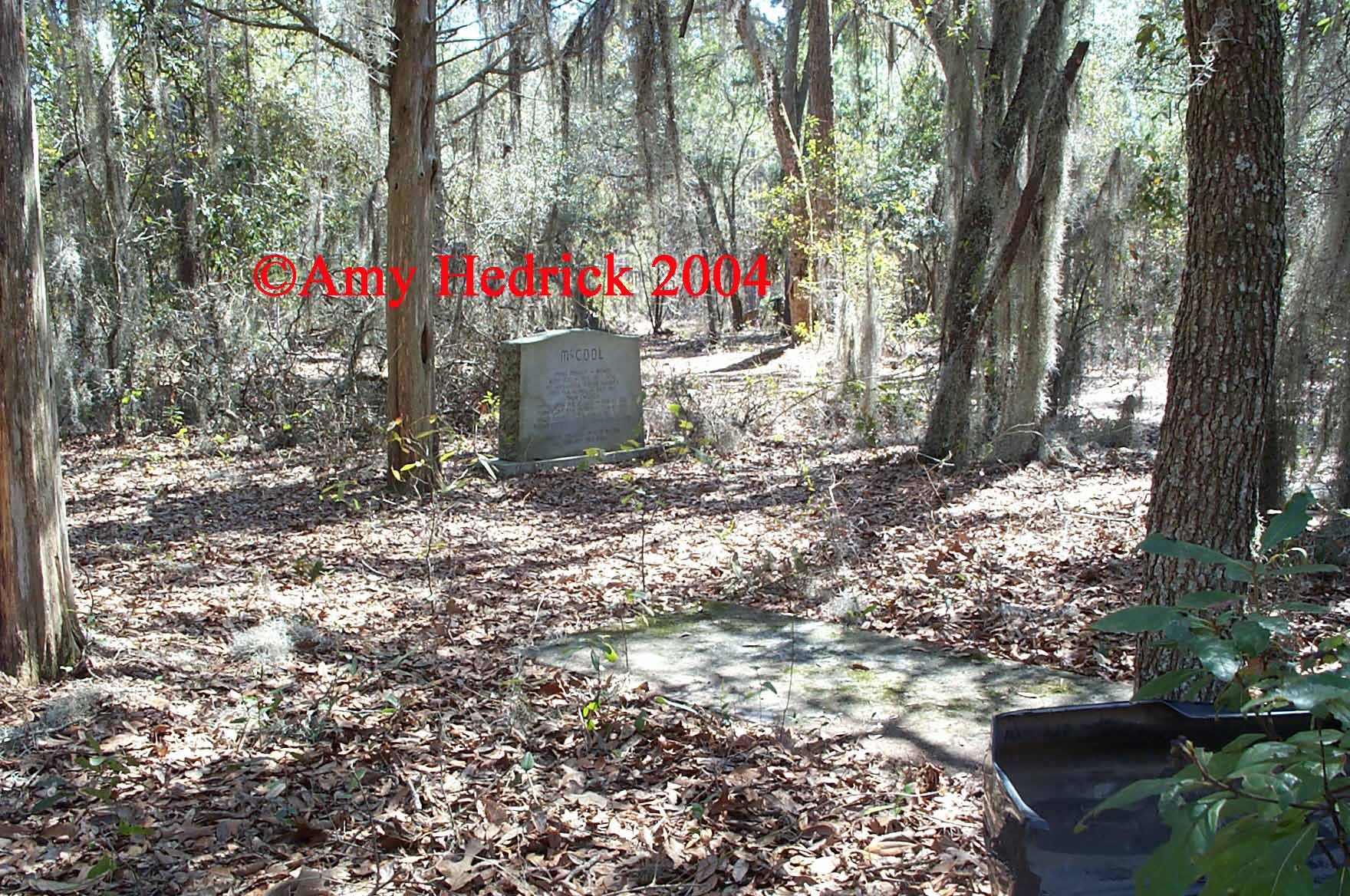 This cemetery is located in Brantley County 0.2 miles off of Browntown Road about 0.5 miles from the intersection of Hwy. 32 and Browntown.

There are only three markers in this cemetery. One is a memorial to all that is buried there, one is only a slab, and another is an actual grave marker and a slab.

Local tradition has it that the children were stricken with diptheria and all died at a young age. The cemetery is in VERY poor shape as people have found it to be the perfect dumping place of household appliances, car parts, etc.

Click on the blue names to see photos!
McCOOL
JAMES MADISON - FATHER
BORN 1826 - DIED JAN. 1, 1904
HIS WIFE LOUISE MARIAH BURNETT
BORN FEB. 14, 1850 - DIED 1912
THEIR CHILDREN
MATTIE LAMB FEB. 10, 1869 - NOV. 22, 1882
MARY ELLEN MAR. 25, 1879 - NOV. 19, 1882
WILLIE BURNETT OCT. 4, 1881 - Dec. 3, 1882
ROBERT EMMETT JULY 23, 1877 - MAR. 2, 1896
AND
FRANCIS, DAUGHTER OF A.M. McCOOL
BORN AND DIED 1908
________________________
L.M. McCOOL
MIDDLETON
SECOND WIFE OF W.D. MIDDLETON
AGE 82
Darling love she has left us.
Left us yes for evermore.
But we hope to meet our loved
one on that bright and happy
shore.

(footstone L.M.M.)
NAME
BIRTH
DEATH
FATHER
MOTHER
SPOUSE

McCOOL, Francis

B/D

00 OOO 1908

McCOOL, Andrew Milton Rev

COLLINS, Ella V

Infant

McCOOL, James Madison Elder

00 OOO 1827

01 Jan. 1904

McCOOL, William Elder

HIGHSMITH, Lucretia

BURNETT, Louisa Mariah

McCOOL, Louisa Mariah Burnett

14 Feb. 1850

00 OOO 1912

BURNETT,

---

McCOOL, James Madison Elder
M2: William Dilworth MIDDLETON

McCOOL, Mary Ellen

25 Mar. 1879

19 Nov. 1882

McCOOL, James Madison Elder

BURNETT, Louisa Mariah

Infant

McCOOL, Mattie Lamb

10 Feb. 1869

22 Nov. 1882

McCOOL, James Madison Elder

BURNETT, Louisa Mariah

Child

McCOOL, Robert Emmett

23 Jul. 1877

02 Mar. 1896

McCOOL, James Madison Elder

BURNETT, Louisa Mariah

Youth

McCOOL, Willie Burnett

04 Nov. 1881

03 Dec. 1882

McCOOL, James Madison Elder

BURNETT, Louisa Mariah

Infant

UNMARKED, Adult

no date

no date

---

---

---
Back to Brantley County Cemetery Page