Scott Cemetery
Brantley County, Georgia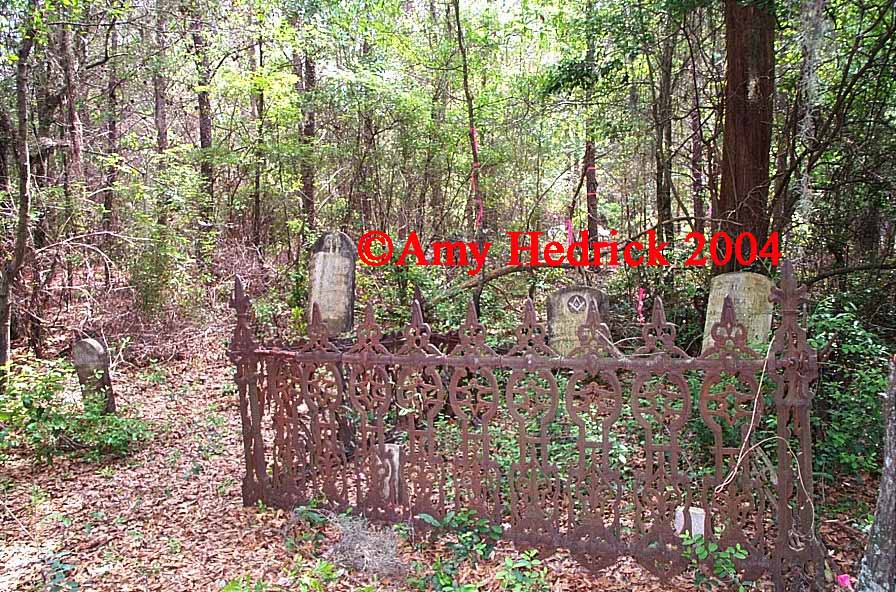 This cemetery is located in Waynesville, Brantley County, Georgia. When traveling west on highway 82 from Interstate 95, turn left onto Post Road, just across the county line. Follow the road 3.5 miles to the end (about halfway down the road turns to dirt). Directly in front of you will be a gate for a hunting club.

You will have to get out and walk from this point. When you go through the gate, follow the road to the immediate right. The cemetery will be four tenths of a mile down on your right. There are only three graves, mother, son, and his wife. This is private property so you may have to get permission to go to this cemetery. It is advisable to plan your trip around the hunting season, and to go when it is a little cooler, to avoid the bugs and snakes.
TO MY MOTHER
MARY SCOTT
who died
March 10, 1845
Aged 52 years
M.S. (footstone)

**Mary (Stevens) Scott was more likely 62 years old at the time of death. She was married in 1800, if she was 52 in 1845, she would have only been 7 years old at the time of her marriage to Thomas G. Scott on 2 November 1800.

Beneath this stone
lies our father
Alex C. SCOTT, Sr.
who died
Oct. 30th, 1875
Aged 69 years
A.C.S. (footstone)

Here
lies our mother
ELIZA J.
wife of
Alex C. SCOTT, Sr.
who died
Dec. 11th, 1875
Aged 66 years
(footstone)

**Family information and corrections were provided by Anne Swift.
| | | | | | |
| --- | --- | --- | --- | --- | --- |
| NAME | BIRTH | DEATH | FATHER | MOTHER | SPOUSE |
| SCOTT, Alexander Cuthbert "Alec" | 00 OOO 1806 | 30 Oct. 1875 | **SCOTT, Thomas G | **STEVENS, Mary | **BROWN, Eliza J |
| SCOTT, Eliza J **(Brown) | 00 OOO 1809 | 11 Dec. 1875 | --- | **??, Mary Ann | SCOTT, Alexander Cuthbert "Alec" |
| SCOTT, Mary **(Stevens) | 00 OOO 1793 | 10 Mar. 1845 | **STEVENS, David | **TIMMONS, Susannah (Page) | **SCOTT, Thomas G |
Back to Brantley County Cemetery Page