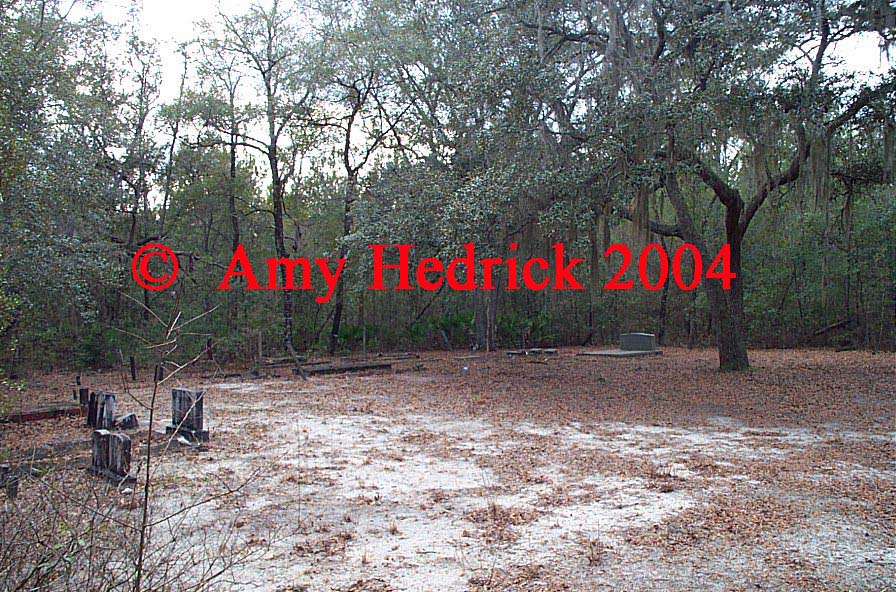 Burney/Popwell
From exit 29 off of Interstate 95, travel 13 miles west to Brantley County and the Post Road. Turn right [north] onto Post Road. About 6 miles you will come to the intersection of Post Road and Hwy. 32, keep traveling straight across on Post Road. In 4.9 miles you will see the Hopewell Baptist Church on your left, and directly across from it is a road into a hunting club. This is private property, if you are not a family descendant you need not be out there.
Travel east on this road and in .4 miles you will turn right [south], keep to your right as the road curves around. In .7 miles you will make a right turn [south west] and the cemetery will be nearly .1 miles in front of you.
One part of this cemetery is in bad shape with overgrowth and the stones are very hard to read, just due to the elements, no human damage. There are questionable gravesites, and I have numbered them along with the known markers.
I have put question marks where I could not read information and some stones had more writing on them, but was not legible at this time. Due to my little friend that you will see in the photo for grave number 22, I did not hang around too long. I will go back when it is colder to decipher the rest of the writing.
Cemetery transcribed 3 March 2004 by Amy Hedrick.