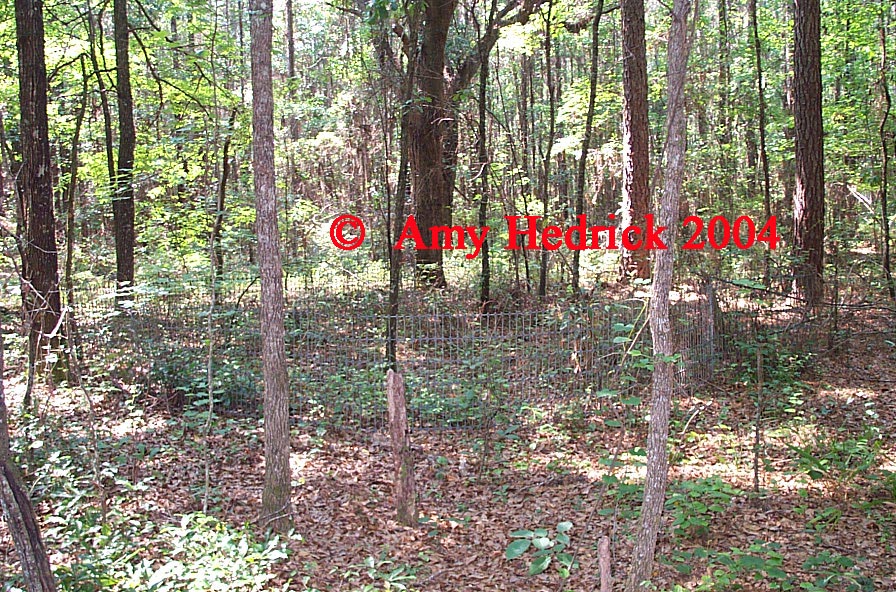 Camp Cemetery is located on the Honeygal hunting club property in northwest Glynn County. From exit 36 on Interstate 95, travel northwest on Hwy. 341 going towards Jesup. About 5.3 miles turn right onto Old Jesup Road. Travel 1.5 miles north on Old Jesup Road and turn right (northeast) onto Pennick Road. Travel 3.8 miles and turn right (east) onto Honeygal Road. About 1.7 miles down, the road will turn to dirt. From the dirt, count to the second hunting club gate on your left, the cemetery is through this gate. In all you will travel 2.5 miles down Honeygal Road to this second gate.
Once inside of the gate, there will be a "road" to your right. Many decades ago this was a road traveling through a neighborhood. Now it is a grass covered path, that you can almost drive a car down. I did not measure the distance down this road, as we couldn't drive completely down it in a full size truck. Eventually it sort of dead ends, and the cemetery will be on your right. Be careful walking down at the end of this road, because it appears that a grave may be in the middle of it. I noticed an indentation the size of a casket as I was leaving the cemetery.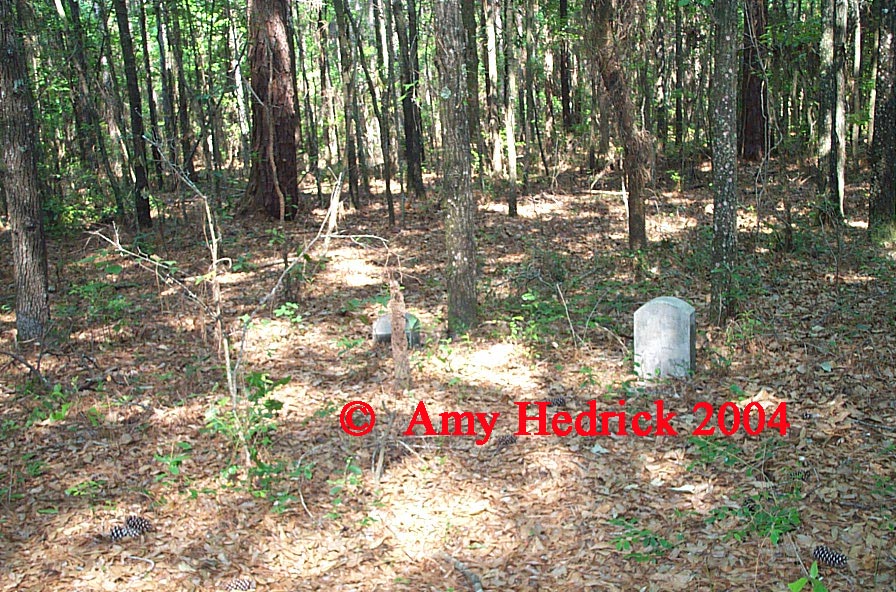 Pictured to the right are the only two markers that I found, standing up that is. The very first picture above is of a fenced off grave plot. There are many, many indentations that are quite possibly graves. Unfortunately these two markers do not have anything written on them.
I did not spend too much time out here, as it was getting ready to storm, and the ticks were ferocious! During the winter, I may go back and look around a little more. According to a few "old-timers" in the area, there is also a white cemetery across the road from this one. It may be called Honeygal, but I did not find any trace of it, of course I didn't look too hard, as the area across from this cemetery is thick with vines and those man eating ticks.
Some of the surnames of people buried here are LeCount, Johnson, Maxwell, Lane, and Alexander. Deaconess Anna E.B. Alexander from the Good Shepherd Episcopal Church on Pennick road, is buried out here too. She was a the founder of the church in 1894 and the founder of Parochial School in 1907. She was born in the 1800s and died in 1947. A monument is erected at the Good Shepherd Church in her honor listing these accomplishments.
Cemetery visited by Amy Hedrick, summer of 2003.