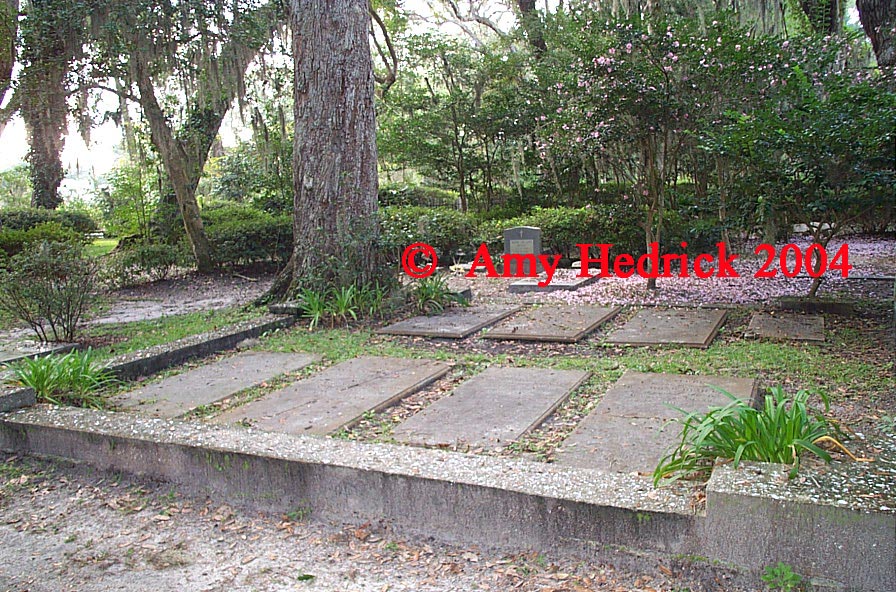 Demere
This cemetery was located at the Demere plantation named Mulberry Grove. The cemetery was supposedly located a few hundred feet from the house and enclosed within a tabby wall about four feet high.
Seven stones were located here and in 1943, when the Malcolm McKinnon Airport was enlarged, these stones were removed to the Christ Church burying ground.
The following epitaphs were recorded by the Georgia Society of the Colonial Dames of America, and were placed in a publication titled "Some Early Epitaphs in Georgia" copyright 1924.
SACRED
TO THE MEMORY OF
RAYMOND DEMERE
WHO DEPARTED THIS LIFE
JANUARY 2ND 1829
IN THE 7 YEAR OF
HIS AGE
SACRED
TO THE MEMORY OF
RAYMOND DEMERE, 2ND
BORN FEB 11, 1773
DIED
ON ST. SIMONS AT THE GROVE
JAN. 10, 1832
A.E. 58YEARS 11, MO.
RAYMOND DEMERE 3RD
BORN 20TH AUGUST,
DEPARTED THIS LIFE SEPTEMBER
14TH 1824
SACRED
TO THE MEMORY OF
CAPT. JOSEPH DEMERE
BORN ON
ST. SIMONS ISLAND
AUG. 17, 1808,
DIED SUDDENLY ON
BLYTHS' ISLAND
JAN. 13, 1831

SACRED
TO THE MEMORY
OF
ANNE DEMERE,
WIFE OF RAYMOND DEMERE
WHO
DIED SEPTEMBER 18TH, 1847
AGED 61

OH WEEP NOT O'ER THE CHRISTIAN'S DUST,
FOR ANGELS GUARD THE SACRED TRUST;
AND MOURNFUL THO' THE PARTING BE,
THE GRAVE HAS GAINED NO VICTORY.

SACRED
TO THE MEMORY OF
THOMAS DEMERE
SON OF
RAYMOND & ANN DEMERE
WHO DEPARTED THIS LIFE
JULY 2ND, 1828
IN THE 22ND YEAR OF
HIS AGE
HERE LIES
INTERRED THE REMAINS OF
MRS. ANN DEMERE
WHO DEPARTED THIS LIFE THE 17TH
DAY OF DECEMBER 1808,
AND WAS BORN IN
SOUTH CAROLINA THE 28TH DAY OF
MARCH 1744

SACRED
TO
THE MEMORY OF
ANNIE R.
WIFE OF
DEMERE
DEPARTED THIS LIFE
ON
ST SIMONS ISLAND, GEO
SEPTEMBER 11TH 1841
THE 24TH YEAR
OF HER AGE
-----
O heaven keep keep, what thou hast taken
And with my measure keep my heart on high
The spirit meek and yet by pain un???
The faith the love the lofty constancy
Guide me where these with my wife have flown
They were of thee and thou hast claimed thine own.

(This stone was not transcribed by the Colonial Dames)