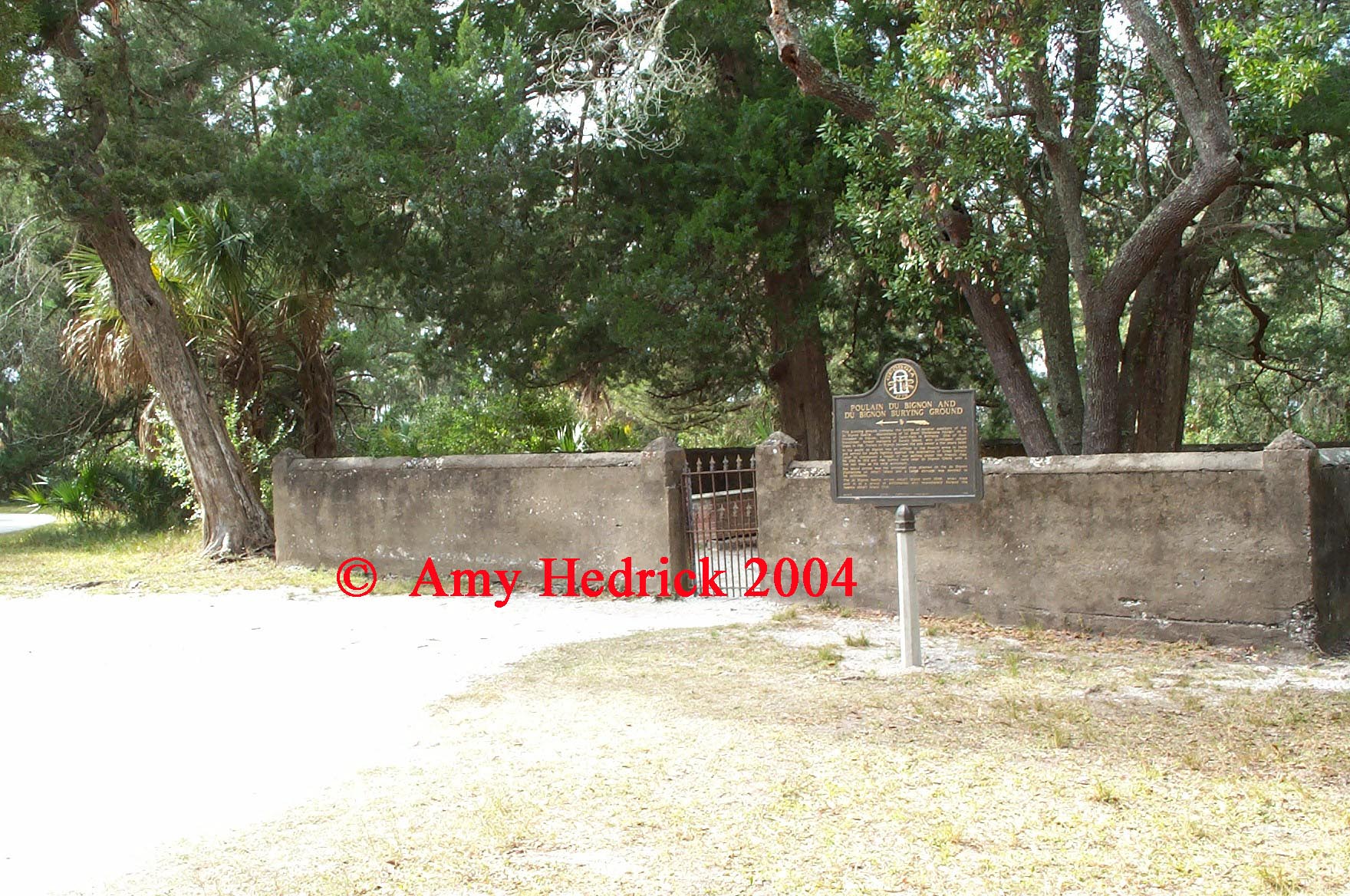 DuBignon Cemetery
This cemetery is located on Jekyll Island. When you pass the tollbooth, make a left u-turn like you are going to leave the island. Get in the far right lane though and go towards the historic district. You will make the first right turn onto Stable Road. Drive about 3.6 miles and the cemetery will be on your left off of the road. It is across from the Horton House ruins. There is an historic sign with the duBignon story on it on the side of the road before you turn into the cemetery. There are five graves in this cemetery: Joseph DuBignon, Ann Amelia duBignon, Marie Felicite Riffault, Hector DeLiyannis, and George F. Harvey.
An interesting side note, no one is buried in this cemetery! According to historian John Hunter on Jekyll Island, when preservationists became interested in this little burial ground, all they found were a bunch of stones lying about. So what to do? We will just make a cemetery. A surveyor was later hired to plot out how many graves are located within in the wall, and imagine everyone's surprise when they said, no one is buried there. Apparently the cemetery is in that area, but from time and the elements the stones toppled over and got shifted about. The actual graves are outside of the cemetery walls.
The duBignon family is descended from an old noble family from Brittany; the family name was Poulain, but in America it soon became known as duBignon from it's American founder, Christophe-Anne Poulain du Bignon.
Captain Christophe-Anne Poulain du Bignon, Officier des vaisseaux de la Compagnie des Indes, Chevalier de l'Orde Royal et Militaire du St-Louis, Seigneur de la Grande Ville-Herve, was born at Lamballe, Brittany (now Cotes-du-Nord, France) on 1 July 1739 and spent his early life as an officer in the French East India Company. He married at Vannes, France on 29 August 1778 to Marguerite-Anne Lossieux, daughter of Guillaume Lossieux Sieur de Fontenay and Dame Thomasse Vincent des Marets. Marguerite was born in Saint-Malo, Brittany the 7 April 1748 and was the widow of Jean Paschal de Boisquesnay, who died in 1774 while they were living on the island of Mauritius (then called Ile de France) in the Indian Ocean. Her father was a captain with the French East India Company and he and his wife are both buried on the island of Mauritius.
Christophe and his family fled France and the Revolution in 1792. Sailing from Saint-Malo on his own ship "Le Sappello", departing about 5 March 1792 and arriving in Savannah, Georgia on 28 June 1792.
Previously, Christophe and four other French men had purchased Sapelo Island off the coast of Georgia for their future home. Late in 1790, Christophe and his son Joseph sailed from Saint-Malo on "Le Silvain" for Savannah. On the ship's master book he is listed as a passenger and as a citizen of the United States (so he would not be detained in France). He returned to France and gathered up his family and came back to Savannah in 1792. The plan for a home on the south end of Sapelo Island did not materialize and we find Christophe and his family settling on Jekyl Island. By 1800 Christophe was the sole owner of Jekyl Island and here he established his plantation, growing mainly Sea Island cotton.
Surviving a British raid on the island during the War of 1812 (in which many of his valuables were stolen by the British crew from HMS Lacedemonian) Christophe spent his last days in peace and quiet.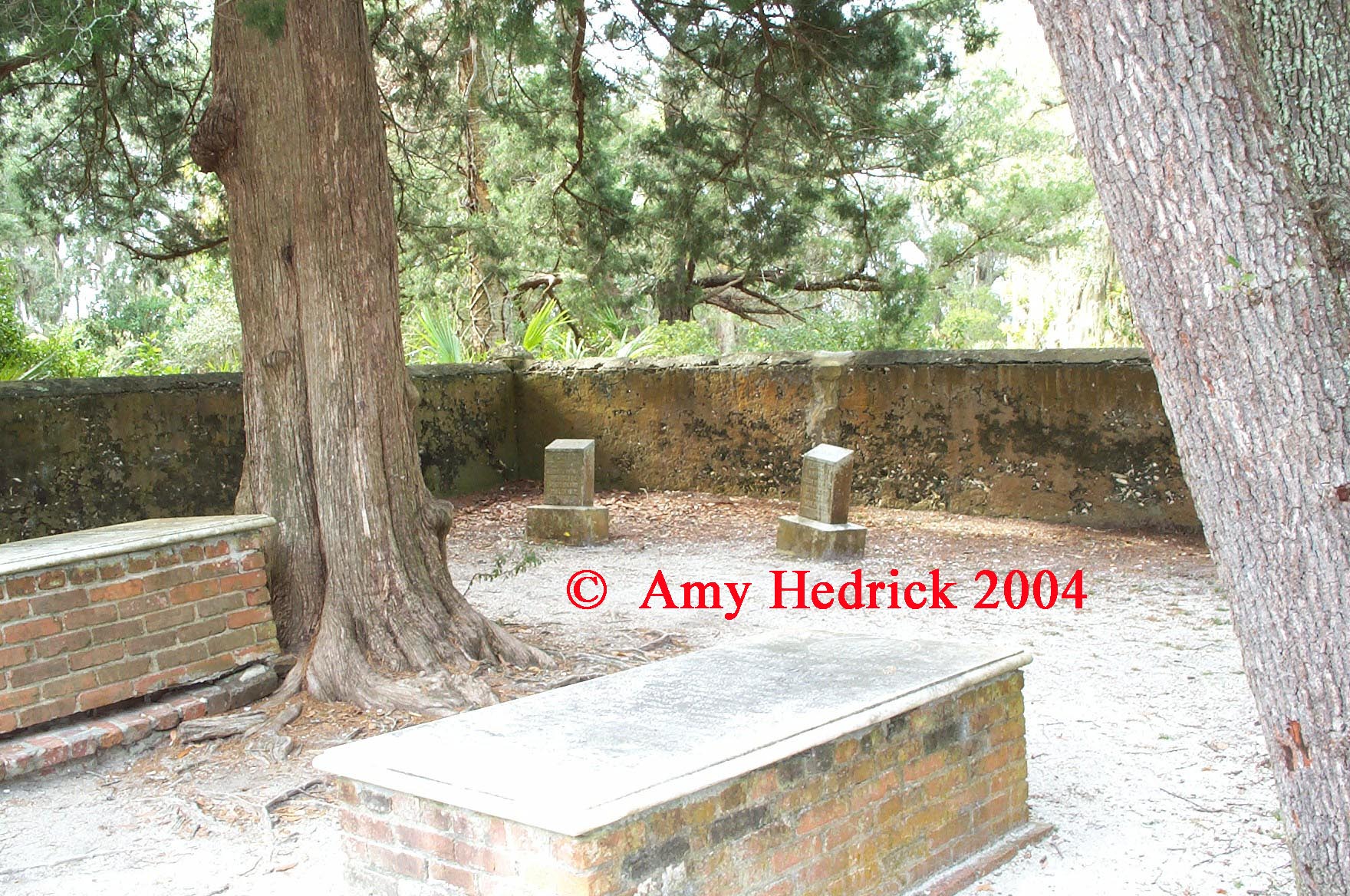 Christophe died "on his Island of Jekyl" on 15 September 1825 and was buried in an unmarked grave close to an old oak tree by duBignon's Creek. His wife, Marguerite, died 29 December 1825 and was buried close to her husband. Their graves are probably located in the vicinity of the present day duBignon Cemetery.
Christophe and Marguerite's second son, Henry Charles (Charles Henry) Poulain du Bignon, was born at Ville-Herve, Planguenoual, Brittany on 3 August 1787. He married in Georgia, by contract on 30 April 1807, Ann Amelia Nicolau who was born in France in 1787 and a member of a family from Bordeaux, France who settled in Glynn County, Georgia and made their home at Marengo. As Ann Amelia was an orphan, her brother Bernard Nicolau acted as her guardian. Later, on 18 January 1808 Father Charles, Priest and Rector of the Roman Catholic Church of Savannah, married Henry and Ann Amelia in a religious ceremony. Ann died on 4 May 1850. Henry married a second time on 23 November 1852 to Mary Aust of Brunswick, Georgia. He died at his estate near Ellis Point on 7 December 1866.
Ann Amelia was a sickly woman, she had given birth to at least nine children with no more than a year between each birth. Because of this they hire a woman to help take care of the children and the household chores. Sarah Ann (Maccaw) Aust was recently widowed by George Butler Aust and she had three children to care for: Mary Delora, Paul, and Fredonia Aust. Therefore the position in the duBignon home was a benefit to her situation. However, what wasn't a benefit to Ann Amelia is that her husband developed a fondness for Sarah and over the course of her employment three children were born to her by Henry. Sarah, thinking her position as the next Mrs. duBignon was secure was horrified to find out that her eldest daughter, Mary Delora, was pregnant, and further horrified to find out that her paramour Henry was the father! I like to think that Sarah graciously stepped aside so that her daughter's reputation would not be tarnished, and let her marry the man she had loved for well over a decade. Of course Sarah was not happy at all about the situation and to further show her dissatisfaction she changed her children's name from duBignon to Turner, a family name, according to legend. However, no documentation has been found to prove that she changed the surname of her children. Many years ago a document from the 1870's was reportedly found in our courthouse where Leonidas (son of Sarah and Henry) was legally changing his name to Turner suggesting that it was he and not his mother that changed his surname. Unfortunately today, this document can not be located in our courthouse.
Joseph duBignon was born on Jekyll Island in 1814, the fifth child of Henry Charles Poulain du Bignon and Ann Amelia Nicolau. On 22 January 1839 he married Felicite Elizabeth Riffault. Elizabeth was the daughter of Charles Pierre Riffault, formerly of Paris, France and a refugee from the French Revolution. Her mother was Marie Anne Felicite Grand Dutreuilh a refugee from Saint-Domingue. Elizabeth was born in Savannah, Georgia in 1812 and died in Brunswick, Georgia on 16 October 1865. She is buried in Oak Grove Cemetery in Brunswick, GA. Joseph was a 1st lieutenant with the Glynn County volunteers, 1839; a member of the Georgia House of Representatives for Glynn County, 1845; a justice of the Inferior Court Glynn County, 1846.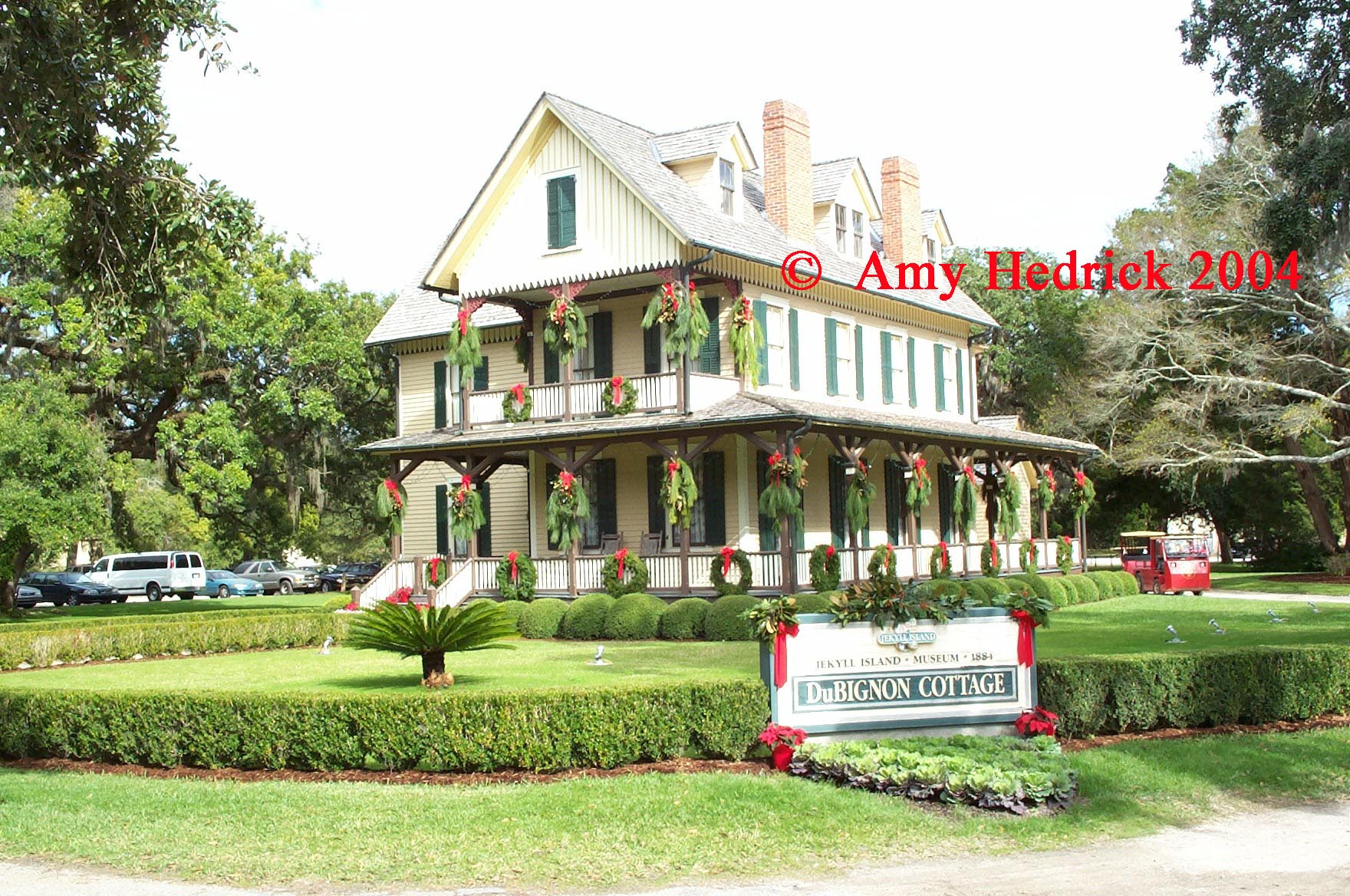 The duBignon Cottage was originally built in 1884 as a replacement for the old manor that was burnt during the Civil War. It later became the Club Cottage and housed the Superintendent and after 1899 it housed guests at $15 a day and if it was needed for more than two months, the rent was reduced to $10 a day.
On 10 August 1892, the duBignon Cottage was moved from its original location to build the first condominiums, Sans Souci. The duBignon Cottage is still located adjacent to the Jekyll Island Club Hotel.
Hector DeLiyannis was an employee of the Jekyll Island Club Hotel who drowned in the river and was buried in this cemetery; he was known as "Hector the Greek". He is no relation to the duBignons.
George F. Harvey was also an employee of the Jekyll Island Club Hotel who drowned on the same day as Hector; he is not a relative of the duBignons either.
The following are transcriptions of the stones verbatim. Ann's gravestone is badly broken and some of the pieces are missing, I have found the original transcription in the book: "Our Todays and Yesterdays, A Story of Brunswick and the Coastal Islands" by Margaret Davis Cate. I also have an extensive family history that I received from Gretchen Greminger at the Jekyll Island Authority, thank you Gretchen. Also, the history of the duBignon Cottage was obtained from the book: "The Jekyll Island Club Southern Haven for America's Millionaires" by William Barton McCash and June Hall McCash.
Cemetery transcribed by Amy Hedrick summer of 2001.
Click on name to see photo of gravestone!