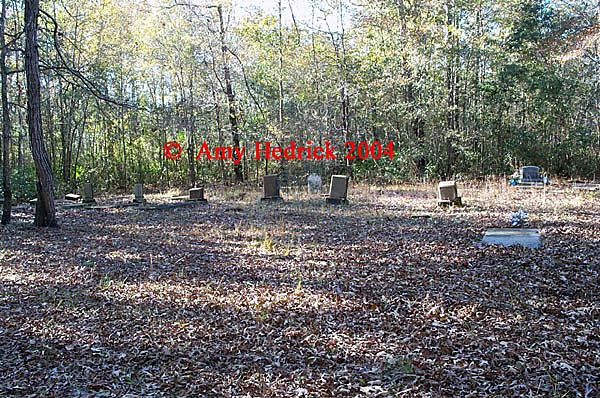 Fred Blue
African-American
This cemetery is located on private property so I will only tell you that it is in the Myers Hill area near the Hippard Cemetery.
I have yet to get a better biography of the cemetery and it's people, but I am working on it. I do know that the Blue family are descendants of the slaves from Laurel Grove Plantation. Fred and his brother Jim Blue bought land next to each other and there is a family cemetery on Jim Blue's land also.
The local story is that Theresa Blue Lockley Pyles Hippard (who is buried in this cemetery without the Lockley or Pyles name) was the mistress of a Sheriff Piles of Glynn County and that he fathered her children but they were never legally married. The Pyles cemetery is located on land that was at one time owned by Sheriff Piles. However, it has been determined that it was actually a woman named Jenny Lind Blue who lived with, and had children with, a white man named George W. Piles, who was a cousin of Sheriff Piles. Jenny and most of her family are buried at the Pyles Cemetery.
Most of these graves only have a concrete slab for a marker, some had no marker, and one only had a few trees growing above it. The family gave me this info ALL FROM MEMORY! The woman who lives there walked beside me and said this is so and so, and that is her husband here, and she was this kind of person. It was amazing! They also gave me the little info they knew about the Pyles Cemetery.
I will update this bio when I talk to the family again as they have more to add such as dates and a little more history, so stay tuned!
Transcribed by Amy Hedrick January 2002.