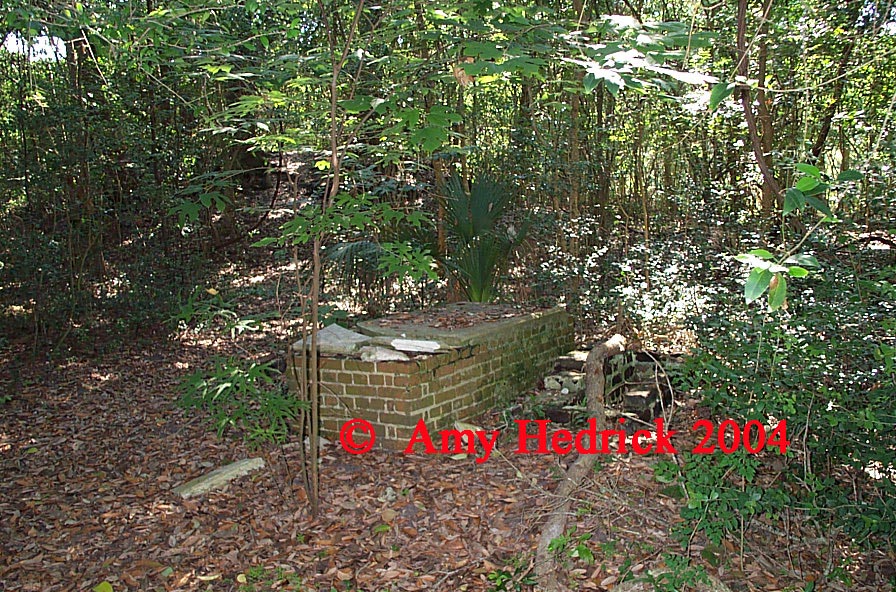 Hamilton Cemetery
This cemetery is located just before Epworth Acres if you enter through the Epworth Methodist Church Camp. It is back in a clump of trees near the marsh. I haven't any information on this cemetery other than it's location and that there appear to be 3 graves here. One has a slab (the middle grave) and there are two small ones (one on each side of the grave with slab). The above photo is taken from the entrance showing the middle grave and the grave on the right side of it. The bottom picture shows the grave located to the left of the middle grave.
Transcribed September 2003.
The transcription on the middle grave reads as follows:

This Tablet
Records the death of
Mr. GEORGE WHITEFIELD
who departed life at St. Simons
June 13th 1813
in the 24th year of his age.
His affectionate friends have erected this
tribute to his memory.
In humble hope that he rests in
peace in the bosom
of his Heavenly Father.
Home Contact Site Map
Copyright ©GlynnGen.com All Rights Reserved
Material on this site is one of kind, having been published here for the first time ever. This data was compiled by Amy Hedrick
for the GlynnGen website to be used for your personal use and it is not to be reproduced in any manner on other websites or electronic media,
nor is it to be printed in any resource books or materials. Thank you!
Want to make a contribution?
Donate via PayPal: