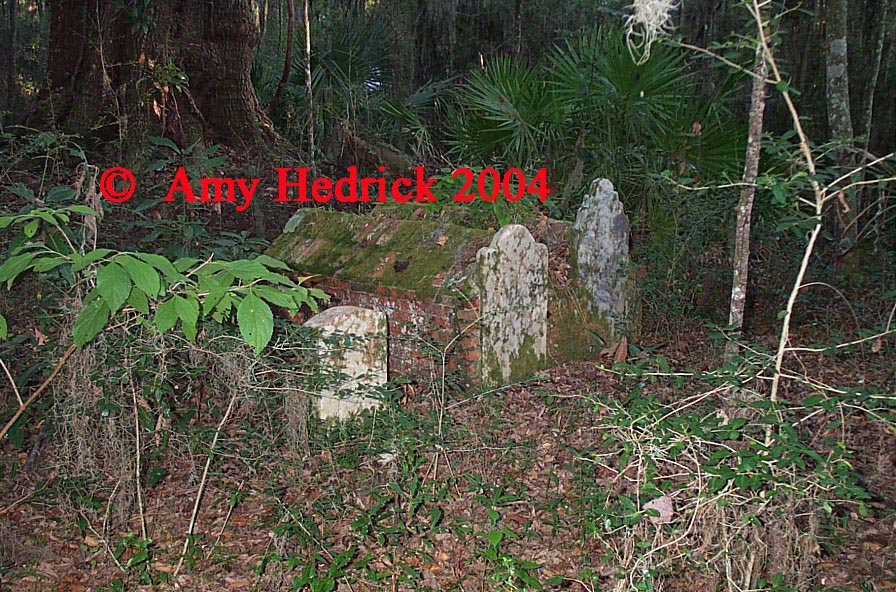 MackIntosh
The MackIntosh Cemetery is located on what used to be known as Sinclair Plantation on St. Simons Island. Today this is a private "neighborhood" that is gated; permission is needed by the land owners to visit the gravesite.
The following is a transcription of the three tombstones located at this site. These are the graves of a father, and two of his children. There is no proof that the father was actually interred here, as his marker was placed long after his death.
Also, see the Historical Markers page for Sinclair Plantation and the online family tree will tell you more about the family and their history.
Transcribed by Amy Hedrick November 2003.
WILLIAM
MACKINTOSH
MAJOR GA TROOPS
REV WAR
DECEMBER 1, 1799

Georgia Gazette (Savannah, GA); Thursday 5 December 1799; pg. 3 col. 2
Died last Sunday at St. Simon's Island, Capt. William M'Intosh, son of Gen. Lachlan M'Intosh.

Here lies
the remains of
Sarah Mackintosh
the only Daughter and
last Child of
Major William Mackintosh
born 8th March 1792
and died 5th Augt. 1795
Here
lies the Body
of
John Lachlan Mackintosh
son of
Major William Mackintosh
of the late American
Revolution Army
was born 3d Janry. 1790
died 22d Sept. 1794
Home Contact Site Map
Copyright ©GlynnGen.com All Rights Reserved
Material on this site is one of kind, having been published here for the first time ever. This data was compiled by Amy Hedrick
for the GlynnGen website to be used for your personal use and it is not to be reproduced in any manner on other websites or electronic media,
nor is it to be printed in any resource books or materials. Thank you!
Want to make a contribution?
Donate via PayPal: