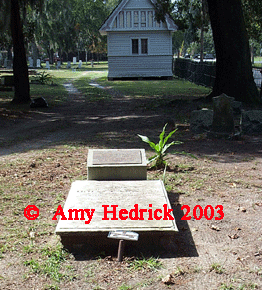 TO
the memory of
JOHN PARLAND
who departed this life
on the 7th September
1836
in the 58th year of
his age.

He was a native of Scotland.
Almost 170 years ago, John Parland, known as the Colonel, died on his beloved island known as Colonel's Island. For those of you familiar with Brunswick, Colonel's Island is where many automobile makers import their cars to distribute to auto dealers around the country.
John Parland was a native of Scotland settling in the Glynn County area on Colonel's Island and Blythe Island. When Parland was 58, he was thrown from his horse and killed. He was buried on a forested bluff overlooking the Brunswick River, not far from his plantation home on Colonel's Island.
According to legend, when John died he left his daughters Jean Adams Parland and Frances Ann Scarlett Parland, by wife Mary Ann (Scarlett) Parland, the first and second wealthiest people in Glynn County in the year 1836.
Frances never married, and Jean married Henry C. King of Wayne County in 1856, having three daughters.
During John's time on the island his main crop was sea island cotton. He also produced other staples to sell to neighboring plantations which included corn, potatoes, and poultry. John owned three other plantations, Longwood, the Dyke, and Gowrie, where he cultivated sugar, rice, and processed lumber.
Upon his death, his two daughters inherited, Jean and Frances' grandfather, Francis M. Scarlett, managed the estate for them until Jean married, when her husband assumed responsibility for her share, and their uncle Francis D. Scarlett managed Frances' share.
By 1886 all of the land was either sold or leased, and in 1970 the Ports Authority gained ownership of this island, which is now divided in half by Highway 17. By the year 2000, only John's grave was the last remaining parcel of land left undisturbed by the growing Ports Authority.
On 16 August 2000, John's body was exhumed, and removed to a new location at the Oak Grove Cemetery in Brunswick, directly behind the chapel. There a plaque was erected signifying the move, and the original tombstone was laid upon his grave.
Grave was surveyed in October 2003.