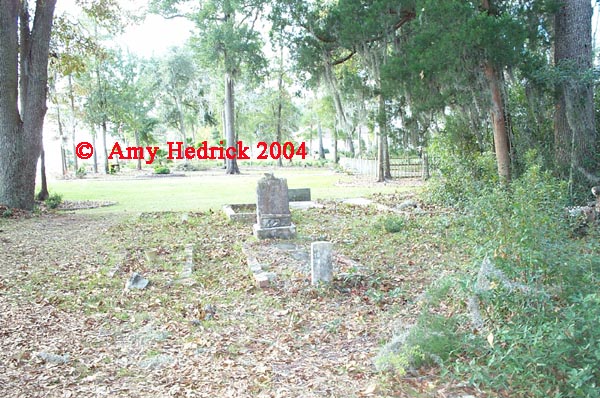 Pyles
African-American
From the traffic light at Hwy. 303 and Hwy. 17 North, go 1.4 miles north on Hwy. 17 and turn right into the Royal Oaks Subdivision. Take a right onto Royal Dr. and about .2 miles on the left is the cemetery.
The cemetery is on an easement and is right next to the backyard of 144 Royal Drive.
The land from the bluff and going all the way back to the McDonald's restaurant was once owned by the Piles family and was later passed on to or sold to the freedmen and women from the plantation. One of the more prominent African-American families to settle in this town after the Civil War, they were intermarried with the Blue and Baldwin families of Glynn County.
There is a lot of history with this family and their settlement in Glynn County that it would make your head spin. I have talked with some of the living descendants and they have their history written down or they can just pull it right out of their mind like it was yesterday even though they weren't alive when many of these people lived. Any aspiring Glynn County African-American genealogist would find a gold mine of history here.
The downside to this cemetery is that only two of the seven graves are marked and as yet we have no records of who are buried in the other five graves. One of the graves we had to cut down bushes and small trees to find. Another grave is open and by open I mean the cement covering has collapsed into the grave and you can see down into it! There was a lot of care taken in digging these graves as some are bricked all the way down to the bottom! The upside to this cemetery, is that the gentleman who lives next door has taken care to trim the weeds and grass back and keep it looking nice.
The only info I have on Scotia is that he came back from the war shell-shocked and that after the war he obtained a degree in agriculture and started farming and helping his family. He was always seen walking to and from family homes visiting all of his friends and family.
Also interred here was Jenny Lind/Lynn Blue, daughter of David Blue and Hannah Bradley. It was a family story that one of the Blue girls and a white man of the Piles family, had children together. I was told that this was Theresa Blue Hippard and Sheriff Robert Pyles. However, after researching this line, I found that Theresa Blue did marry a Robert Pyles, but he was black. But, Jenny Blue can be found in every census year living with or next door to a white man named George Pyles, cousin of Sheriff Robert.
Not only that, but George is selling this property for $1 an acre to his sons and other relations. And, according to two different death certificates, Dave Pyles who died 18 March 1925 and Anton/Orton Pyles who died 14 April 1925, their parents were George W. Pyles and Jenny Lind Blue.
Anna Pyles Hankins was the daughter of this union too, she married Oliver Hankins on 10 January 1915. So it is likely that many of the Pyles children are interred here, and quite possibly one white man, George W. Pyles.
Surveyed by Amy Hedrick summer of 2002. MAP