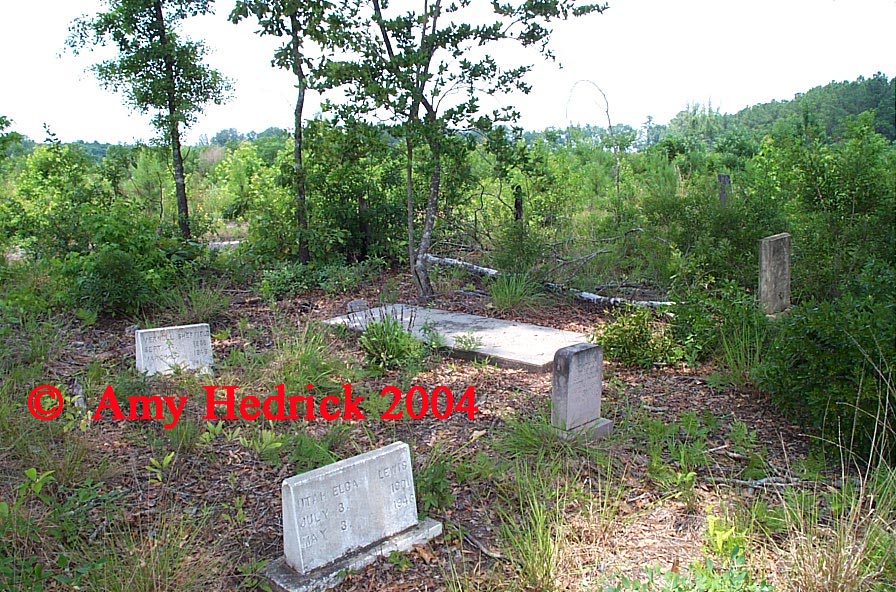 Sheffield/Lewis
African-American
This cemetery is located in the Haynor Hunting Club property. I haven't any other information on this cemetery right now. The directions will not be disclosed as this is private property, I was not allowed to write them down, and it would be too hard to describe the location. As you can see from the photo, there are miles of woods surrounding this small cemetery. What you see behind it, is what I had to crawl through to get there! Snakes, spiders, and briars!
Many locals, and I am sure any existing family members, may know where this cemetery is so directions arenít necessary.
Also, this isnít the true name of the cemetery. Since I haven't any info to document the name, I chose the two last names of the people buried out here which are two Sheffield and three Lewis family members.
From the looks of the land, this may have been a plantation at one time, there is a line of tall trees, as if it were marking a driveway to a big plantation home.
I was told that there is one more cemetery out there, or a monument anyways, dedicated to a MOODY family ancestor. We were not able to find it.
Surveyed summer of 2003 by Amy Hedrick.