In November of 1959, the town's largest yard sale was held at the Oglethorpe Hotel located on Newcastle Street. Many great finds were to be had by the locals, and from people for miles around. Furniture, lighting fixtures, doors, lumber, bricks, etc.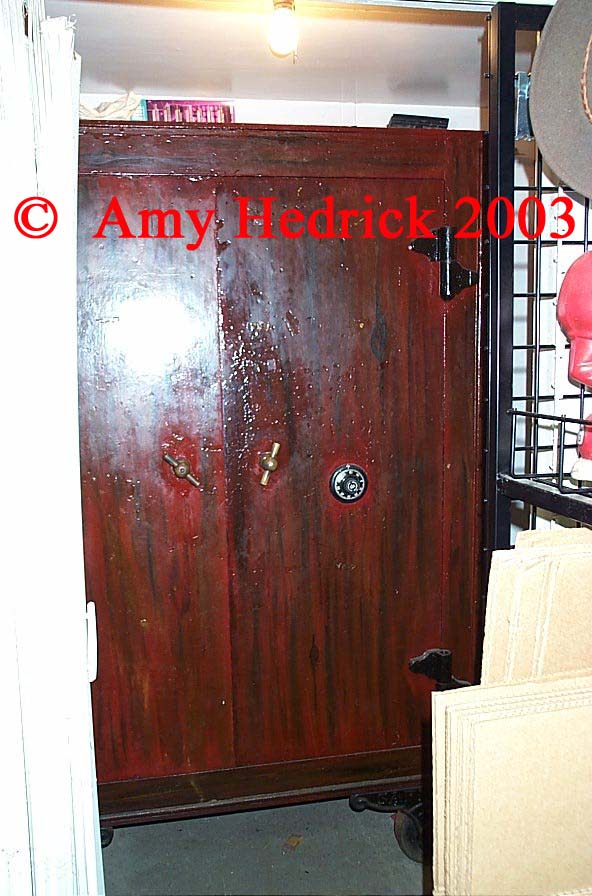 One of Jekyll Island's hotels is rumored to have been built with the bricks of the Oglethorpe. This hotel is located on Beachview Drive, and I believe it is a Quality Inn now.
Well, with my father's help, I had just happened to mention what I was doing, he says "You know who has the safe from the Oglethorpe don't ya'?" Well, I didn't, but he did. I immediately looked the gentleman up when I got back to Brunswick, an lo' and behold there it was.
The safe stands about 5feet high, and is probably 2 feet in depth. The original color was black, the gentleman who owns it, we will call him Mr. C., said that he had it refinished to a natural wood color, since the panels on the outside are wood. When he got the safe, the dial and knobs were broken off, apparently someone had already absconded with the items inside.
It is unknown how much the safe weighs, but this may give you an idea. When Mr. C. went to retrieve it, he used a one and a half ton tow truck to move it, and he said that when he hit a bump in the road, the front tires would bounce off the ground! Clearly this safe weighs 2 tons more or less.
One of our long time locksmiths, Mr. Maurice "Hurd" Hatfield, saw this safe in Mr. C.'s business,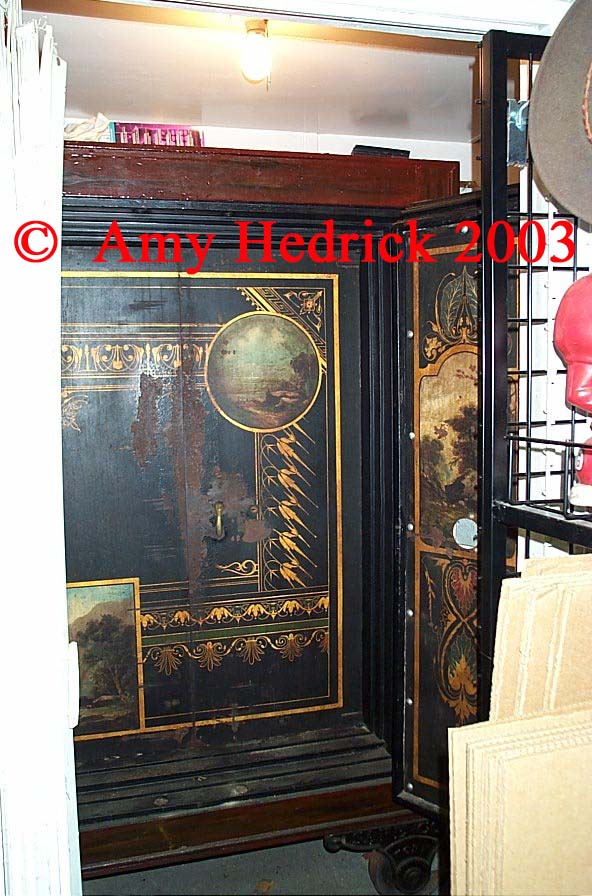 and suggested that he could fix it for Mr. C. at a reasonable price. So, for few hundred dollars, which is a drop in the bucket compared to the price Mr. C. paid for the safe itself, it was back in working order, and has been used for what it was designed for, ever since.

Now how did Mr. C. come about acquiring this safe? Well, it's a story of real preservation.

Mr. S. Hadley Brown originally bought the safe, it is unknown for how much. Since it had been broken into, and not working, it was placed in one of Mr. Brown's warehouses on the waterfront, and there it sat for almost a decade.

Mr. C. met Mr. Brown when he (Mr. C.) was 12 years old, and delivering newspapers. When riding his bike by a home, he would toss the paper on the porch and keep going. When arriving at Mr. Brown's house, which is now our Chamber of Commerce, Mr. C. had the uncanny knack of hitting the screen door before the paper landed on the porch. One day Mr. Brown waited for Mr. C. to toss the paper, and stopped him, and said that he and his wife didn't wake up very early, and everyday they are awakened by the newspaper hitting their door. Mr. Brown made Mr. C. a business proposition, that if he got off of his bicycle, walked quietly through the gate, up onto the porch, and quietly opened the screen door, and place the paper inside, there would be an extra 10 cent tip every week for him. Mr. C. was overjoyed at this idea, as 10 cents went a long way with a young boy back then. A friendship was formed.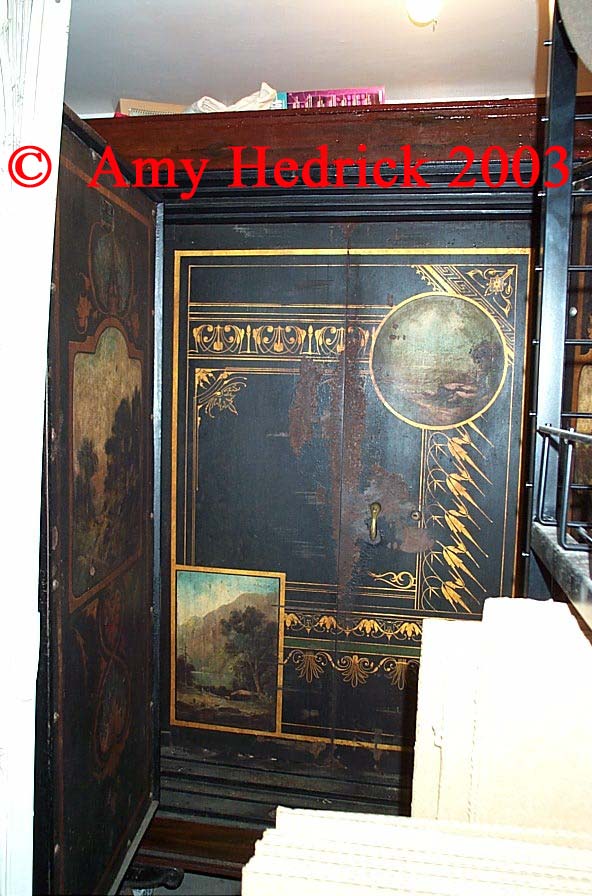 Around 1968 or 1969, Mr. Brown calls Mr. C. up one day, and asks how much he would charge to move a safe out of one of his warehouses and take it to the dump. Due to urban renewal on the waterfront area (Bay Street), the warehouse was to be torn down and Mr. Brown wanted to get rid of it's contents. Mr. C. goes to the warehouse, sees the safe, and is told the history, and strikes a deal with Mr. Brown. He says "If you will let me keep the safe, I won't charge you anything to remove it." SOLD!! Mr. C. only paid his labor, and the few hundred dollars it took to fix it, for the Oglethorpe Hotel Safe.

The safe was saved from being lost forever in the dump. As you can see from these inside photos, that after opening the doors, that this author can attest weigh almost or more than 200 pounds, there are painted frescoes on the wooden panels inside. The casters have New York, New York on them, and it is unknown where, or even who the safe was originally manufactured by. When Mr. C. took one of the panels off of the door to repair the dial combination lock, a railroad spike was found inside. Curious relic that!

Mr. C. was happy to get this safe, one of his early memories of the Oglethorpe Hotel, was of he and his cousin chasing each other the length of the front porch. He also remembered if you walked off the porch, on what would now be the "F." Street side, and walked down the stairs to the basement, there was a barber shop owned by an African-American man named Mr. Battles, and there were a few dress shops too.

In 1985, the safe was moved to it's present location, and as I said, has been used ever since Mr.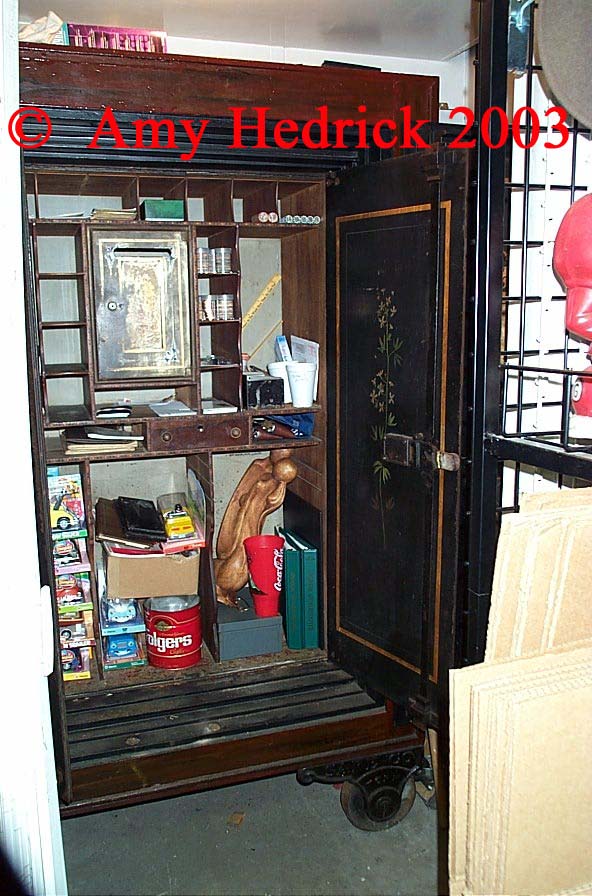 Hatfield repaired it over 30 years ago.

Mr. C. also has another, well actually two other relics, of the Oglethorpe, and that is two of the carved concrete cornerstones. Which now reside in his private rock garden at his home. Mr. C.'s hopes are that the safe will remain in his family and be passed on to the next generation, and so on.

He has had many offers from relic hunters to buy the safe, but he has, thankfully, refused all of them. One such incident involved a gentleman from another town coming into the business of Mr. C. and stating that he would like to buy the safe. Mr. C. promptly told him it wasn't for sale, and this gentleman says that everything is for sale, name your price. Mr. C. refused to name a price or accept any offers, it was not, and is not, for sale. This gentleman was so enraged at Mr. C.'s stubbornness, that he tore up his credit card (the card was for Mr. C.'s company) and stormed out.

Thankfully, the safe, is safe, and will be for many years to come. It is very satisfying to hear about, and find, such relics still located in Brunswick and not have to travel to another town or state to view them. What is even more amazing, is that after 100 years, more or less, this safe is still being used for it's original intent.