For well over a year now [as of this writing in August 2004] I have been maintaining the Glynn County Genealogy & History Website. While doing so people have been slowly coming to the forefront with their family histories, photos, and heirlooms. One such photo was an early photo of a cemetery. It is very rare to come across such a photo as this, because the Grant Cemetery is in such a state of ruin today, that by looking at this photo, then looking at the next photo, you can't believe that this is the same cemetery. Why? Several reasons, but two of the most prominent, two ledgers are missing, and one has been moved across from the others!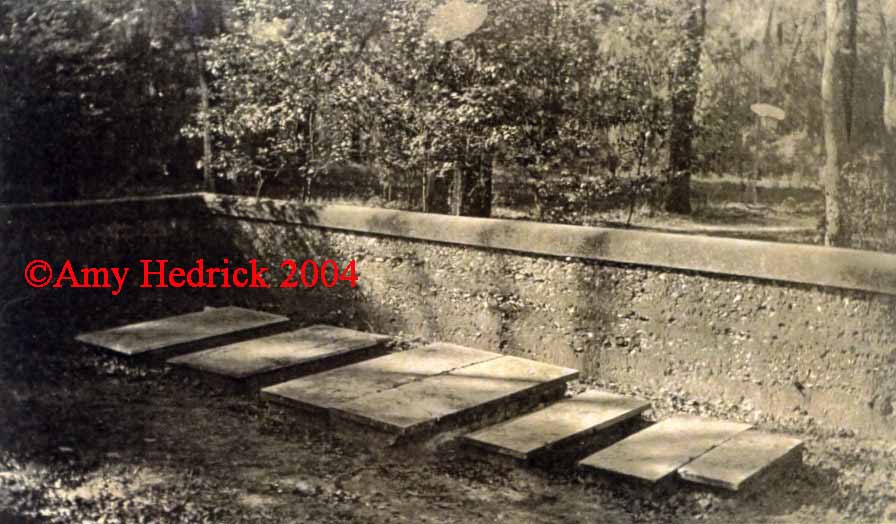 According to the plaque that was erected outside of the cemetery wall in 1986 there were only 5 burials in this cemetery, all children of Robert & Sarah (Foxworth) Grant.
But as you can tell from this photo, there are more than just 5 graves here. And if you look at the photo of today, the ledgers are not in a straight line like they are in the photograph to the left. Emelia's grave is slanted at an angle, then there is Robert's grave, then the two baby graves of James Couper and Sarah Grant that you see pictured above on the far right. The baby grave that is third from right, Harry Grant, today is across from the the rest of the graves.
So, what happened in this cemetery? And, when did it happen? Was it vandalism, was it merely storm damage,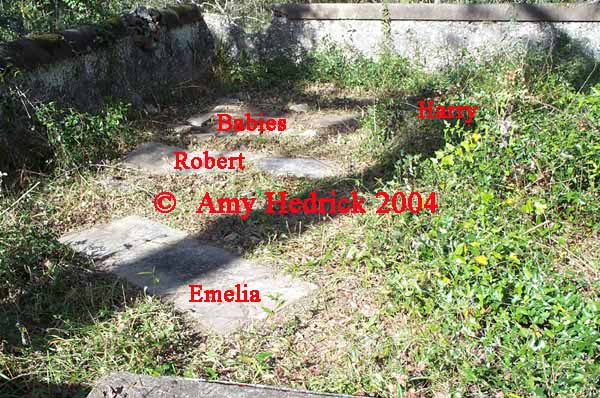 were the bodies moved? According to the plaque, Robert & Sarah Grant were buried at Christ Church on St. Simons Island.
As you can see in this picture to the right, there isn't any room for those two double slabs between Robert [the son] and the babies, there is only a foot or two of space. But it appears that all of the ledgers were moved away from their original positions. Maybe suggesting that when the land was sold repeatedly over the years that perhaps the Grant family were exhumed and removed to Christ Church?
Very curious indeed!
Upsetting Views
In January of 2002, I [Amy Hedrick] first cleaned this cemetery with the help of my boyfriend Al Brown, and transcribed the stones as well as I could. It involved several hours, just to clean one half of the burial ground. Unfortunately a chainsaw had to be brought in first, just to get into the cemetery, then back breaking labor of hand clipping all of the shrubs and weeds away from the ledgers. Not to mention pulling hundreds of ticks of each other!
We then had to bring 5 gallon buckets full of water from about a mile away to clean the stones of dirt and debris from our "chopping" of brush. I talked to the president of the children's program that resides on this old plantation now about the maintenance of this cemetery. They said that they maintain it, could have fooled me. He informed me that after I cleaned it that they would be sure to keep it maintained from now on.
Early this year, 2004, I went back out to see what kind of progress they had made with the cemetery and had found, of all horrors, a tree had fallen into the cemetery, causing the damage to the wall you see on your left. I went back a few months later to take pictures. The tree was gone, but the damage was done.
Not only did it break away this whole corner, but it has demolished the stairs leading into the cemetery. It may very well have ruined the ledgers [tombstones] that remain inside.
But as you will see from the next photo, you can not tell if the ledgers have been damaged, you can not see them anymore either!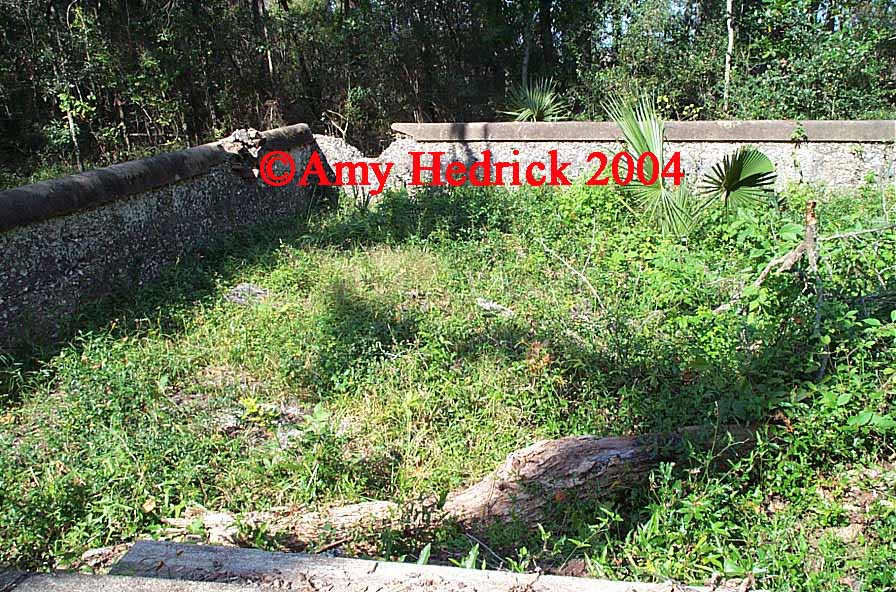 A piece of the dead tree still lies upon the ground inside, and the ledgers are no longer visible. The cemetery has been taken over again by shrubs.
So much for "we maintain the cemetery". This is a youth group school, certainly they can make this part of a program where these children can go out and clean the cemetery, but maybe that's asking too much.
It certainly is a shame, as this is, so far, one of the oldest documented cemeteries on the mainland. I guess because it is not on St. Simons Island, it is not important enough to garner special attention.
Being the good citizen that I am, I do clean these cemeteries, regardless of what the law states about who should be in charge, because if we wait around for someone to step forward, this is what happens, and we lose a piece of our history. I have asked some other Grant family members to help maintain the cemetery, but they just avoided the question.
However, if it turns out that no one is buried here, it may not be so upsetting after all! It still is a piece of history that should be preserved though, as the original tombstones are still there, even if the family is not.