Elizafield Plantation
by Amy Hedrick
Including Grantly, Evelyn, and Oatland (St. Simons) Plantations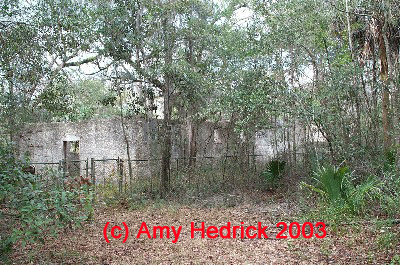 Elizafield Plantation is known by many as the Youth Estates or Boys Estate property (it is now called Morning Star). From exit 42 off of Interstate 95, travel .7 miles south east on Hwy. 99, turn left [north] into the Morning Star Property. The property now has a locked gate at the entrance and you can no longer come and go as you please. YOU MUST GET PERMISSION TO VISIT!
The original owner of Elizafield was Dr. Robert Grant, a native of Leith, Scotland who arrived in South Carolina during the closing years of the American Revolution and married Sarah Foxworth. He later moved to Oatland, his summer home on St. Simons Island, around 1834 where he lived out the rest of his life.
From 1809 to 1825 Robert Grant secured over 1500 acres of land along the Altamaha River and christened it Elizafield. The death date of his son Harry, in 1813 would suggest that Robert and family were living at Elizafield during this time period. Rice, cotton, and cane sugar were all grown on this vast plantation.
According to some historians, the big house at Elizafield is said to have faced east and was set back from the river on the bank of Six Mile Creek. It was built on a foundation of tabby. The living quarters for the enslaved were located several hundred yards away to the west. On the east side of the house, across the creek, was the sugar mill. When looking at a garden map of the plantation, this information just does not fit. If you know where the cemetery is located and the sugar mill, by looking at this map, the house would be facing south. (Map is published in a book called: "Garden History of Georgia, 1733-1933" Atlanta 1933, pgs. 50-51.)
A sugar works was established soon after (around the 1820's) but was abandoned in 1833 due to the ill-fated Brunswick-Altamaha Canal running through the property thus depleting the water supply to the mill. An archaeological dig was performed at these ruins in hopes of proving that they were the ruins of one of the many Spanish Missions dotting the coast. In the late 1930's, this theory was abandoned, as the obviousness of it being a sugar mill sunk in.
In 1833 Dr. Robert Grant decided to retire from plantation work and move back to St. Simons Island. He divided Elizafield into two nearly equal parts, one which was to keep the name of Elizafield, the other to be named Evelyn. Elizafield was given to Robert's son, Hugh Fraser Grant, then living in South Carolina, and Evelyn was given to Hugh's brother Charles Grant.
Hugh made a success of his land, while Charles was constantly in debt and steadily falling into financial ruin. Hugh was always saving his brother and then eventually taking over Evelyn all together and adding a third plantation named Grantly. Hugh's land joined with the Altama and Hofwyl/Broadfield plantations. After the war between the states, however, Hugh's finances began to suffer. By the time of Hugh's death in 1873 he had lost the title of Elizafield to four creditors but still retained the right of redemption. Elizafield was sold at public auction in 1889. The value of the land went from over $80,000 before the war, to a mere $7600 after the emancipation of the enslaved, for they were the driving force behind the success of the plantation, without them there would have been no rice fields to grow rice. Even if the enslaved had not been freed the value would have depreciated due to new competition and techniques, and the loss of the West Indies market for rice.
Many family stories abound that Charles was bad with money, and always gambled away his fortunes. If he had done all that, he would never had been able to send all of his children to college, nor own two homes in Savannah. According to a descendant:
Charles
was a corporate officer for the Savannah, Albany, & Western Railroad, a Savannah businessman in the 1850s, and a life insurance broker after the war. They managed to send all the kids to college and had 2 nice homes in Savannah. My ancestor, James B. Grant, was in medical school when the war came along. The rice business went down the toilet about the 1840s, and this was when Charles turned Evelyn over to Hugh and moved to Savannah.
Charles' home across from Chatham Park was built in 1845. The other home is across the street from the Colonial Cemetery, on Oglethorpe Avenue (South Broad in those days). Son Robert was an attorney who died in 1865 from stroke, Miller Grant was a prominent Savannah architect-engineer, James Grant died 1867 of broken neck, Charles Grant was an Episcopalian Rector who died about 1870, William Grant died in the war, and Ernest Grant died about 1885. Charles' wife, Cornelia, was a Bond and related to the Screvens and Houstons and other Georgia families.
Dr. Robert Grant and his wife Sarah Foxworth are buried at Christ Church on St. Simons Island. Hugh Fraser Grant and his wife Mary Fraser were originally buried in Bonaventure Cemetery in Savannah, Georgia, they are now interred at Christ Church Cemetery on St. Simons Island. From an early photo, however, we now believe that Robert and Sarah Grant were most likely first buried at Elizafield, with their children. Their graves were later moved to Christ Church in the 1950s when Elizafield was sold to become a recreation park.
There is more to the above history in many different publications on this family. One book you will have to see is the book listed below to learn: how the land was sold and divided among the family, who the other children of Robert Grant were and who they married, the rice culture in the area, management practices, and the milling and marketing of rice in 1830-60. The complete plantation journal is transcribed in this book also. It includes: field journals, accounts with factors, lists of the enslaved, crop summaries, accounts with overseers, accounts with relatives and neighbors, tax returns, land on Champneys Island, cattle and poultry, plantation remedies, sick list, bank account, how to grow rice, canal work, drafts of letters and speeches, and last entries.
The only let down for me (about this book) was that there is no mention of the children that are buried in the Grant Cemetery other than the death date of Harry. I have yet to find any source containing information on these Grant children. The book is rich in history and what it took to run a rice plantation. I could go on and on, but then this would turn into a family history and agricultural study, not a short bio on a one time successful river plantation.
Be sure to check out the cemetery link for Elizafield Burial Ground and the Grant Cemetery.