The Oglethorpe of 1838
News article
Oglethorpe Deeds
Chain of ownership
Grand Opening
News article
Mary Ragland Photo of Hotel 1948
Richard Egan
being interviewed by Jerry Davis of WGIG Radio c. 1955
Luncheon Itinerary Honoring Richard Egan
Oglethorpe Hotel Safe
Living History Page
Oglethorpe Model
Facebook Page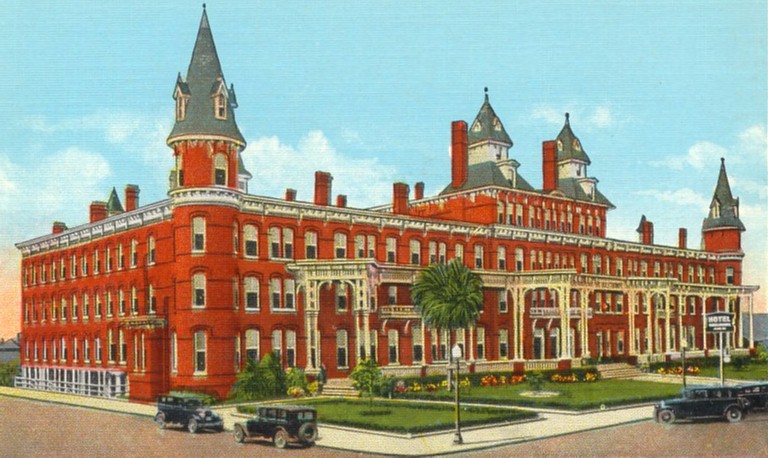 Located on the highest point in the city of Brunswick on Newcastle Street, the Oglethorpe Hotel was one of the largest and most beautiful in the south. Constructed of brick, standing three stories high, with a frontage of 267 feet, wings running back 140 feet on either end, and a wide porch running 240 feet in length across the front. The building was capped by conical towers in the center and at the corners.
The hotel was landscaped with shrubs, flowers, and walkways. Between the wings was a park that was opened to the water front. In the center of this park was a handsome water fountain, and the whole, bordered by palmettos, orange, and other tropical trees. An artesian well, 400 feet deep, supplied the hotel with about 375 gallons of water per minute. The water was raised by a duplex pump to a hexagonal tower with a reservoir that supplied water for baths, general use, and for the kitchen.
To enter you passed through two huge double doors and entered into the marble tiled rotunda that opened to a circular balcony that extended 25 feet into the courtyard with a view of the bay. Off to the right side of the entrance rotunda, through an archway, was the office and on the left, another archway lead to the grand staircase. Marble tiled hallways lead out from the rotunda on either side to the dining rooms, parlor, reception rooms, reading room, elevators, billiard room, and to the gentleman's parlor and smoking room. The hallways were heated by steam and every room was heated by a fireplace.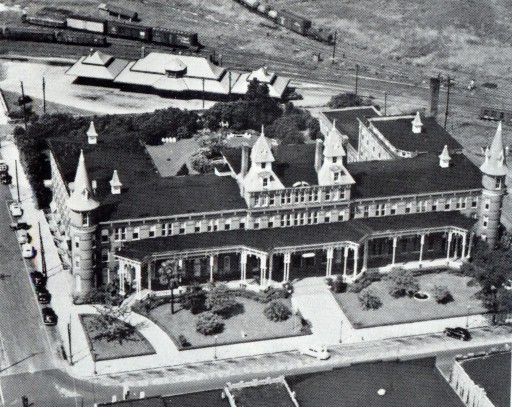 The dining room could seat 300 guest comfortably in a 80x75 foot room, with two connecting rooms. The grand parlor was 70/32 feet and connected by folding doors to the reception room (20x30 feet) and then connected to a comfortable dressing room. Mantels of highly finished carved wood adorned the parlor, reception room, and several of the finer guest rooms.
Up the stairs to the second floor, you would stand on a balcony overlooking the rotunda below. The second and third floors were almost identical in their floor plans. Each room faces the street or overlooks the harbor, and are large with closets and many adjoining other rooms. Bath rooms connected with suites of rooms, and public bathrooms were also available. An elevator ran at all hours and the whole hotel was outfitted with electricity.
Every floor had a hydrant with a hose that, aided by a pumping machine that pumped 375 gallons of water per minute, would aid in fighting any fire that may occur. The kitchen and laundry rooms were deemed "fire-proof".
A livery stable provided fine Kentucky stock saddle horses for rides through woods and parks.