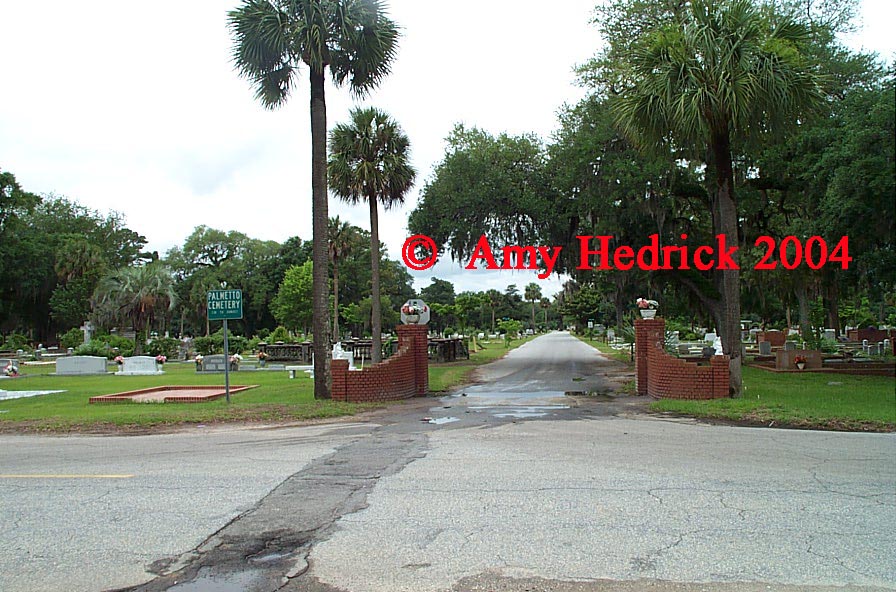 Palmetto Cemetery is located about 3 miles east of Exit 36 off of Interstate 95, on Hwy. 341 in Brunswick. It is the largest cemetery in Brunswick, next to Greenwood, which happens to be the "neighbor" cemetery to Palmetto. This photo is taken of the entrance to the west side of Palmetto.
There is a transcription for this cemetery that has been put together in a book that comes to over 800 pages! Not only does this book have the grave listings, but it also has family information taken from funeral home records, census, city directories, and the family descendants themselves. A great genealogical resource. Unfortunately the books are no longer available, but it is available on CD.
I have a copy of the book on CD that is updated on a yearly basis by Ms. Ruth N. Vicent, just email me using the link at the bottom of every page in this web that says "Contact". Ms. Vicent can provide lookups too; her email address is at the top of this page, you will have to enter it manually the first two letters are "r" and "n" then "vicent" not vincent.
Scroll to the bottom of this page to access the index to the Palmetto Cemetery Book.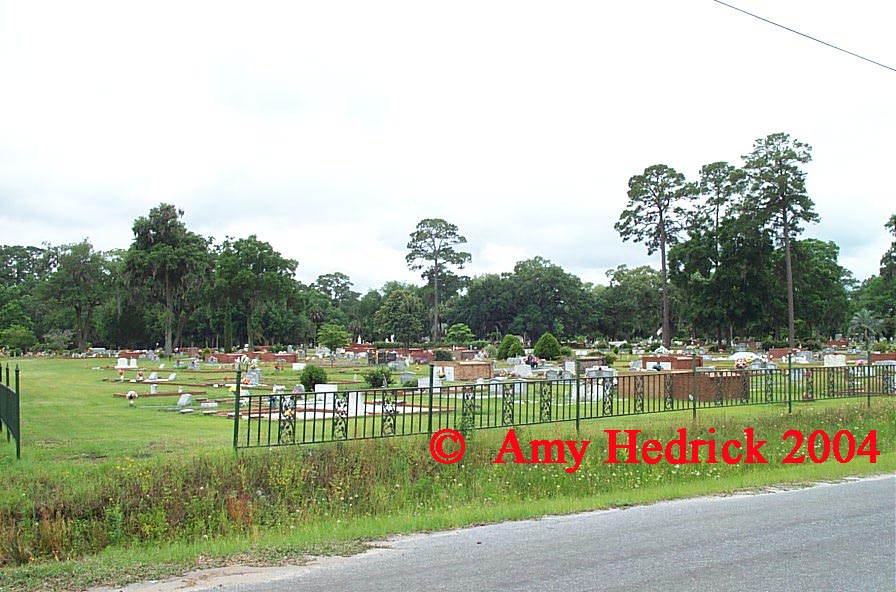 If you find your ancestor, please email us, and we will be happy to give you more info, remember, this books has more than just burials listed. The index has not been updated for several years.
This photo merely depicts the eastern half of the cemetery. Here alone are hundreds, if not thousands, of graves. Just about everybody was buried here or in Oak Grove (city) cemetery, which was once known as the Brunswick Cemetery.
Index to Palmetto Cemetery
This is only an index of burials current up to the year 2002.
There is more genealogical information in the book.
Please email me if you find your ancestors.
DO NOT ask for me to send you everything on a surname or family!
Please send queries on a specific person(s) only!
These files are very large, and take time to download!
You may even have to refresh the page to get it to download completely.
Be prepared to wait a minute.
Abbreviations Used in Listings

ABA-Atlanta Birmingham Atlantic Railroad-later was
Atlanta Birmingham Coast Railroad
ACL-Atlantic Coast Line Railroad
asst-assistant
b.-born
bro-brother
Bwk.-Brunswick
c-as in birth date, about or short for ca., circa
Capt-Captain
cem.-cemetery
ch-children
chyd.-church yard cemetery
co.-company
Co.-County
Col-Colonel
d.-died
d/o-daughter of
div.-divorced
dy-died young
engr-engineer
gr ch-grand children
imm.-immigrated
inf-infant
mgr-manager
m.-married
M/M-Mr. & Mrs.
mo-month
nat.-naturalized
occ-occupation
opr-operator
ret-retired
RS-Revolutionary Soldier
s/o-son of
Sgt-sergeant
sibling-brothers & sisters
sis-sister
supt-superintendent
wd-widowed or widower
Yaryan-first name for Hercules Powder Company
yrs-years