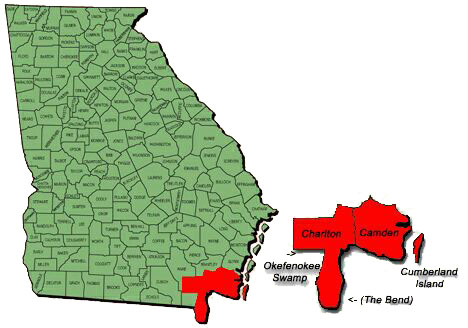 Nearly all of these pages can be slow to load because they are graphic intensive. I've removed most thumb nails and replaced them with the full-sized images. I did this mostly because it's easier for ME to keep track of them and requires less clicking for visitors.
To start your journey, pick the county of interest: Camden County or Charlton County. You will find more links on the Navigation Bar at the side of each page.
On 2 January 1788, Georgia became the 4th state to enter the Union. Georgia's capital, and largest city, is Atlanta - about a 5 hour drive north of Camden. Georgia ranks approximately 10th in state population. We've only produced one president: Jimmy Carter.
Alternately known as both the "Empire State of the South" and the "Peach State" I'd have to say that "Peach State" is more common. Our motto is "Wisdom, Justice, Moderation." Our state song is "Georgia (On My Mind)." Our bird is the Brown Thrasher while our animal is the Right Whale. Our flower is the beautiful Cherokee Rose and our tree is the majestic Live Oak. A little known fact is that our state stone is the Quartz.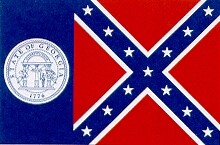 Georgia's flag has changed many times. T he last time was in the 1950's when they incorporated the Confederate Flag into a section of the state flag. Like many state flags, it shows our British heritage.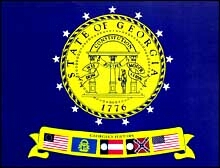 The year 2001 brought more changes to our state flag. Opposition to the Confederate inclusion has caused many states to adopt new flags. Keeping in mind how often our flag has changed (I've seen 8 - both official and unofficial), I'm relatively indifferent to whether or not the flag changes again. The flag for 2001 is to the right. It's not a bad flag - but I wish the state seal was white and not yellow!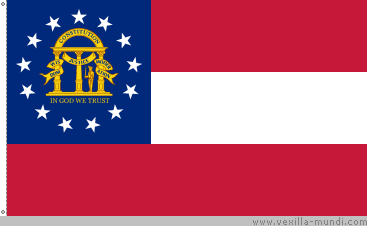 On 8 May 2003, yet another flag was adopted. The 13 stars represents Georgia being one of the original 13 colonies. As of this writing (May 2004) this is our current flag.
For further research, please be sure to check out the Bryan - Lang Library. I have a page up with their pamphlet and contact information, but this is not their official web site.
All material is copyright 1995-2012 unless otherwise noted. Free for non-profit research.